Did CIA tip lead to Nelson Mandela's 1962 arrest?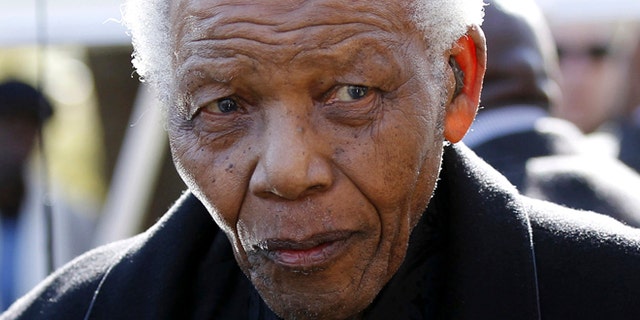 On a gently sloping road leading out of the town of Howick, South Africa, a Ford V-8 full of police waved over a car carrying a tall black man wearing a white chauffeur's jacket. The sight wasn't so unusual during the country's apartheid era, except the would-be chauffeur was in the passenger's seat.
That day, Aug. 5, 1962, Nelson Mandela's life as an underground revolutionary came to an end.
He would spend 27 years as a venerated political prisoner. Somehow, the police had known in advance that one of the nation's most wanted men would be posing that day as a driver delivering his employer to Johannesburg. The question that lingers is, who tipped them off? Some South Africans remain convinced that it was the U.S. Central Intelligence Agency.
Just outside of Howick, there is now a massive steel sculpture of South Africa's first black president. It marks the 50th anniversary of the apartheid regime's most important arrest—and a turning point for the country's people. "This is where you could say South Africa's history changed," says Brendan Grealy, manager of the Mandela Capture Site and its newly opened museum. "Here he went to jail. When he came out of jail, we became a democracy."
The fading health of Mandela—recently hospitalized for a recurring lung infection—has spurred a rush to better understand his 94-year life. Google has been digitizing his papers and photographs in partnership with the Nelson Mandela Center of Memory, part of the ex-president's foundation. But there is still no definitive answer to how the police knew to wait for Mandela.
The person actually driving the car, Cecil Williams, was posing as a wealthy white businessman. Only his skin color was authentic. He was really a well-known theater director and South African Communist. Mandela had recently returned from military training elsewhere in Africa and had sneaked back into the country to lead a band of saboteurs targeting public utilities.
Frustration with the limits of peaceful protests had led the African National Congress, banned by the apartheid regime in 1960, to create a military wing.
As they drove to Johannesburg from the city of Durban that afternoon, Mandela and Williams were scouting for sites to strike. When the police car swerved in front of them and stopped the car, Mandela initially stuck to his alias—David Motsamayi, chauffeur—according to his autobiography, "Long Walk to Freedom." But the unshaven police sergeant didn't buy it and delivered his arrest warrant.
A judge sentenced Mandela to five years in prison—three for inciting people to strike and two for leaving the country without a passport. That was extended after a 1964 trial, in which he and seven others were given life sentences for sabotage and other acts.
Who gave him up?
Denis Goldberg, a fellow activist who was also found guilty in the 1964 trial, believes a CIA agent got wind that Mandela was in Durban and shopped the tip to South African security in order to extract an informant from jail. The intelligence community was cozy in those days, he says: "They all knew each other; they all drank together."
Those who believe a CIA informant betrayed Mandela point to media reports, decades later, about a junior U.S. diplomat at the Durban consulate who allegedly boasted at a party of steering the police to Mandela. South African and British newspapers identified the diplomat as Donald Rickard.
Rickard now lives in Colorado and, when reached by phone, said "that story has been floating around for a while." He added: "It's untrue. There's no substance to it." Rickard declined to discuss his posting in South Africa, calling it a "private affair."
A request for information from the National Archives and Records Administration and the CIA yielded no information on Rickard, nor a possible link between the CIA and Mandela's arrest. The CIA declined to comment. South African police didn't immediately respond to queries about the arrest.
The U.S. government was no fan of South Africa's apartheid state. A confidential 1964 State Department memo—obtained from the National Security Archive, a nonprofit that publishes declassified information—expressed alarm at the number of arrests targeting those who stood up to apartheid. The memo noted with concern that Mandela and others in the 1964 trial might be sentenced to death. "Their deaths would probably mean increased resort to violence and radical measures," it read.
Mandela himself attributed his arrest to a clumsy job of disguising his movements. "I cannot lay my capture at [the CIA's] door," he says in his autobiography. "It was a wonder, in fact, that I wasn't captured sooner.