Despite tensions and confusion, U.S. travelers to Venezuela begin applying for visas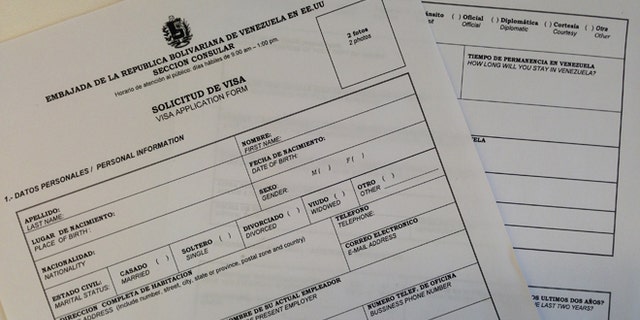 NEW YORK – The Venezuelan consulate in midtown Manhattan on a recent morning was a hub of activity as consular officials dealt with a slew of paperwork in the wake of President Nicolás Maduro's announcement late last month that U.S. visitors to the country must obtain a travel visa.
Despite reports that some of the country's consulates across the U.S. don't have the documentation needed to issue the visas and worries that consular staffs won't be able to handle the increased work load, things were proceeding smoothly at the New York consulate Friday with staff handing out approved passports, and U.S. travelers expressing both shock and pleasure at the speedy turnaround of their visa applications.
"I prepared all the paper work, and I don't think they're going to give a hard time," Ray Khoury, a New Jersey resident who was applying for his visa on Friday, told Fox News Latino. "I'm going to get the visa and go."
Khoury, who has been to Venezuela a number of times on vacation, said that he found out about the visas only after he had already booked his flight and was warned by the airline of the need to get the documentation.
Venezuela's Maduro stated the new visa requirement was imposed for national security reasons after authorities detained several Americans, including a U.S. pilot, who allegedly were involved in espionage. The country also plans to charge Americans the same $30 tourist visa fees that the U.S. charges Venezuelans, with the payment having to be made in dollars.
Venezuela's consul general in New York was not immediately available to comment to Fox News Latino.
The abruptness and haphazard rollout of the new visa rules – Maduro made the announcement Feb. 28, and the law was enacted on March 3 – has caught most travelers off guard and forced some to make changes to their itineraries.
Shani Singer, an American citizen living in Israel, was supposed to travel to Venezuela via Germany alongside her boyfriend, a Venezuelan citizen, for a relative's wedding, but the new rules forced her to make a stopover in New York, as the Venezuelan embassy in Tel Aviv could not fulfill her visa request.
"I was freaking out that I would not be able to go the wedding," Singer told FNL "I had to figure out where to get this visa."
The stay in New York, however, was not as painful as Singer feared – she arrived in the U.S. on Thursday and got her visa Friday morning.
"It's super easy," she said. "They've been very serious about everything they need."
The ease with which U.S. travelers in New York are getting their visas has not, however, been echoed in other consulates across the country and the world. Some embassies and consulates still haven't received instructions or are being coy about issuing the visas – the Venezuelan embassy in Washington, D.C., did not make the visa requirements public until 72 hours after the law was enacted – and some travelers attempting to get visas in foreign countries have reported being told it could take up to 90 days to process their request.
Given how quickly the new visa went in place, American Airlines, which has two flights a day from the U.S. to Caracas and five a week to Maracaibo, has been informing its passengers about the changes before their flights and giving them the opportunity to cancel or change their trips without cost. Around 36,000 Americans visit Venezuela every year, according to officials in Caracas, but that number is believed by many to be inflated.
For U.S. citizens hoping to travel to Venezuela who don't live near the embassy or one of the country's consulates in Boston, Chicago, Houston, New York, New Orleans, San Francisco or San Juan, Puerto Rico, the challenge of obtaining a visa is even greater.
In South Florida, for instance, where Venezuela shuttered its consulate in Miami in 2012 – despite the region being home to the U.S.'s largest Venezuelan community. Now, the closest consular office is more than 600 miles away in New Orleans.
While U.S. travelers appeared to be taking the new visa requirements in stride, they acknowledged that the law was another sign of the deteriorating relationship between Washington and Caracas.
Following on the heels of Venezuela's new visa requirements, restrictions on the activities of U.S. diplomats and shrinking the size of the U.S. embassy staff in Caracas, U.S. President Barack Obama on Monday issued an executive order freezing the assets in the U.S. and denying visas to seven Venezuelan officials.
Obama said that the executive order is meant to target Venezuelan officials – including the former head of the country's intelligence service and the leader of Venezuela's Bolivarian National Police – who have been deemed responsible for cracking down on anti-government protesters in clashes between the two sides that left more than 40 people dead and led to the jailing of a number of prominent opposition political figures.
"Anytime you require a visa or there is tension between countries, one of the consequences is always the travel," Robert Budrecki, who was dropping off a visa application for a friend, told FNL. "It's a nice country, and tourism is a big business down there, and you would think that they would want more, but with the tensions that exist there will be more problems."