Despite pledges, US struggles to show new Syria push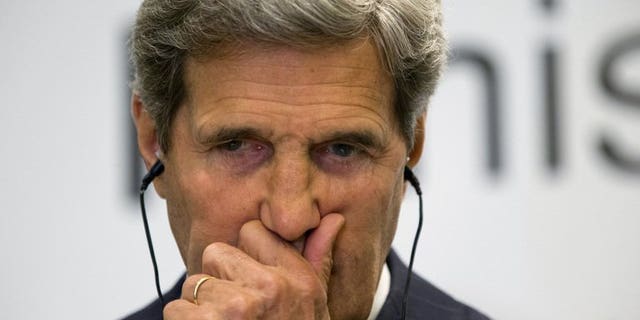 DOHA (AFP) – US Secretary of State John Kerry has vowed new support for Syria's rebels but beyond tougher talk, it remains unclear how much has changed.
Kerry met with fellow opponents of Syrian President Bashar al-Assad's regime during talks Saturday in the Gulf Arab monarchy of Qatar, a stalwart supporter of the Sunni Muslim rebels.
Qatar said that the talks agreed on a "secret" plan to ramp up assistance to rebels fighting the conflict that has claimed nearly 100,000 lives.
But Kerry declined to lay out specifics other than to insist that -- after three similar meetings among foreign ministers -- this time the situation has changed.
"It's not anything we say today that will make the difference to Assad; it's what happens in the days and weeks and months ahead -- and I hope not too many months," Kerry told reporters.
"But the reality is what happened here today is different because the situation on the ground is different," Kerry said.
He pointed to US President Barack Obama's stated willingness to step up support for the rebels after concluding that Assad defied his warnings by using chemical weapons.
The rebels have reported receiving new equipment from "friendly" countries -- a possible allusion to Gulf Arab states -- but the United States, France and Britain have been quiet on what they have provided.
Participants in the Doha talks said that the reticence was partly a nod to concerns by Italy and especially Germany, which has repeatedly cautioned that weapons could aggravate the conflict.
Qatar's Prime Minister Sheikh Hamad bin Jassem al-Thani, meeting with Kerry, said that all but two countries agreed in the Doha talks on plans to support the rebels.
He insisted that Qatar, which has played an increasingly outsized role in the region, was only sending support to the mainstream Free Syrian Army.
US officials have privately voiced concern about potential support by Arab states to more extreme elements in the increasingly sectarian conflict.
Obama has publicly warned of the risks of a full-fledged military intervention against Assad, a member of the Alawite minority who leads a secular-minded state.
Kerry in his talks repeatedly insisted on protections for minorities in Syria in the wake of attacks on Alawites and Shiite Muslims.
He said that the United States did not seek a "military solution" but instead wanted to correct a growing "imbalance" in Assad's favour.
The ultimate goal is a transitional government with representatives from both sides, Kerry said, noting that even Assad's historic supporter Russia had signed onto the formula during talks in Geneva last year.
Kerry accused Iran of starting the "internationalisation" of the Syria conflict through the participation of its ally Hezbollah, a Shiite movement in Lebanon.
"You now have outside actors engaged overtly on the ground in Syria. No other country has that. We don't have that, the Qataris don't have that," Kerry said.
But the Qatari prime minister, in remarks that were light in tone but appeared to take Kerry by surprise, said that the tiny gas-rich emirate would send forces to Syria if it could.
"We don't have enough people -- otherwise we might send people on the ground," he said.
Kerry also met Saturday with the young Sheikh Tamim bin Hamad al-Thani, whom he called Qatar's "heir apparent" amid expectations for a transition.
Kerry meets Sunday with the emir, Sheikh Hamad bin Khalifa al-Thani, before heading on a three-day trip to India.
The top US diplomat will later head to Saudi Arabia, another strong supporter of Syria's rebels, along with Kuwait and Jordan.