Despite baby, shades of grey still dominate British monarchy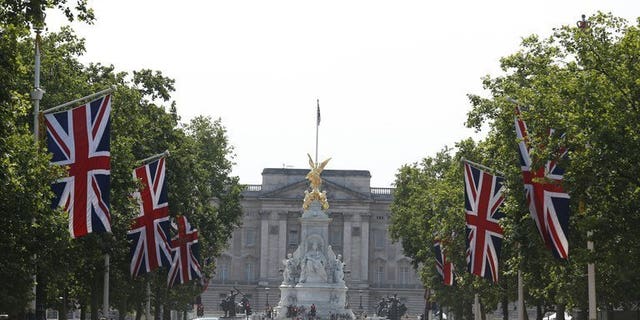 LONDON (AFP) – The birth of Prince William and Kate's son is supposed to give the British royal family an injection of youth, but the monarchy will likely rest in elderly control for decades to come, analysts say.
At 87, Queen Elizabeth II shows no sign of relaxing her solemn coronation vow of lifelong duty, while her eldest son Prince Charles, the heir to the throne, is 64 and potentially still many years from the throne.
The birth of a child to Charles's eldest son William will mean that four generations of monarchs will be drifting round the corridors of Buckingham Palace, leading royal commentators to ponder on the growing succession queue.
"If the queen lives as long as her mother, 101, then Prince Charles will be 80 before he succeeds to the throne. We might have a succession of very elderly monarchs," Robert Hazell, director of the Constitution Unit at University College London, told AFP.
The queen inherited the throne in 1952 aged 25 following the early death of her father, king George VI, at the age of 56.
She celebrated her 60 years on the throne last year and is approaching the longevity record of queen Victoria, who reigned for 63 years, 216 days until her death in 1901.
First in line is Charles, who quipped last month with the Commonwealth's outgoing chief rabbi: "I realise, of course, that we have both reached the official age of retirement. But I hope yours is going to be a bit more realistic than mine."
The Daily Telegraph newspaper reported it under the headline: "Retiring? I haven't even begun my job."
He is followed in the line of succession by William, 31, who tops the royal popularity polls.
The new royal baby is third in line to the throne.
-- The abdication taboo --
"This baby represents the next generation and the ability of this dynasty to survive," Patrick Jephson, former private secretary to William's late mother Diana, princess of Wales, told AFP.
"Their first responsibility as a dynasty is not to open hospitals and be kind to animals: it is to perpetuate the dynasty."
In 2013, pope Benedict XVI, queen Beatrix of the Netherlands, king Albert II of Belgium, and the emir of Qatar, Sheikh Hamad bin Khalifa al-Thani, have all abdicated in favour of younger successors.
But Queen Elizabeth, loyal to her vows, shows no sign of giving way to Charles.
Hazell said he had tried in vain to start a public debate on the abdication taboo.
"If we inflicted that punishing amount of work on any other woman of 87, people would call it granny abuse!", he said.
The Times newspaper's columnist David Aaronovitch said the birth of the heir to the heir to the heir to the throne was "not a bad moment for her to tell us that she would now like to spend more time, deservedly, with her horses, corgis and great-grandchildren".
Though her health and stamina remain robust, the queen has slowly started to share the burden with younger royals, with Charles taking a growing role.
In November, he will represent his mother -- the head of the Commonwealth -- at the organisation's biennial summit in Sri Lanka.
The "transition" could be a difficult sell.
The popularity of Charles -- and his second wife Camilla even more so -- is still hampered, with acceptance of their relationship growing at a snail's pace since his 1992 separation from his first wife Diana, princess of Wales.
Plus, as Charles himself noted, they too are getting old.
"A couple of septuagenarians tottering up the aisle at Westminster Abbey to be crowned... that doesn't do the brand an awful lot of good," Jephson said.
-- Gentle transition --
Another hazard is that Charles risks being seen as a "caretaker monarch" while people wait for William.
And as for the new father, once the baby euphoria calms, "it won't take long for people to question how he spends his time".
The Regency Act 1937 sets out that the next adult in line should act as regent if the sovereign is a minor or is incapacitated.
In the event of physical or mental incapacity, 48 percent believe Queen Elizabeth should step down, according to a YouGov survey in May.
Joe Twyman, the polling firm's director of political and social research, said the public seemed increasingly comfortable with Charles taking on more ceremonial duties.
"If not an abdication, then there is a sense of passing of the torch," he said.