Deportations on the rise in Canada amid migrant influx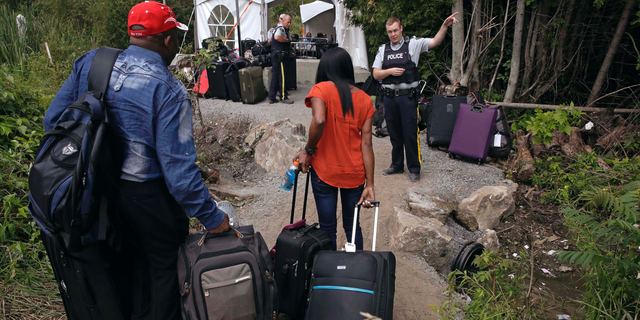 TORONTO – Canada has stepped up deportations of migrants this year as a surge of asylum seekers enter the country illegally from the United States.
Canada Border Services Agency said Thursday there have been a total of 5,529 deportations as of Tuesday compared to 7,357 in all of 2016.
The number of deportations to Mexico jumped from 433 last year to 719 this year. Canada waived a visa requirement for Mexicans last December.
Deportations to Haiti have surged to 474 this year from 100 for all of last year. More than 80 percent of the migrants entering Canada in recent weeks are Haitian.
More 4,000 migrants have crossed into Canada illegally in the last three weeks, straining the system to the point where officials turned a domed stadium into a makeshift shelter and the army set up tents at the border.
The Canadian government has warned migrants not to enter the country illegally and declare asylum, noting that many will be turned away because economic reasons are not a reason that will get you asylum.
Many migrants said they left the U.S. fearing deportation due to increased immigration enforcement under President Donald Trump and believing Canada would automatically give them residence, only to experience a rude awakening upon arrival. Only 52 percent of the Haitians who had their claims resolved last year were granted asylum.
Like in the United States, rules in Canada allow for asylum for people who can demonstrate a well-founded fear of persecution in their homeland based on race, religion, political opinion, nationality or membership in a group like the LBGT community. People can also be accepted if Canada fears they face torture or cruel or unusual punishment if they are deported.
But those deemed to be economic migrants are given orders of deportation through a process that can range from several months to many years.
Last year Canada granted asylum to 63 percent of applicants, for a total of nearly 16,000, according to the Immigration and Refugee Board of Canada.