Denver police won't face charges in fatal shooting of 17-year-old girl, DA says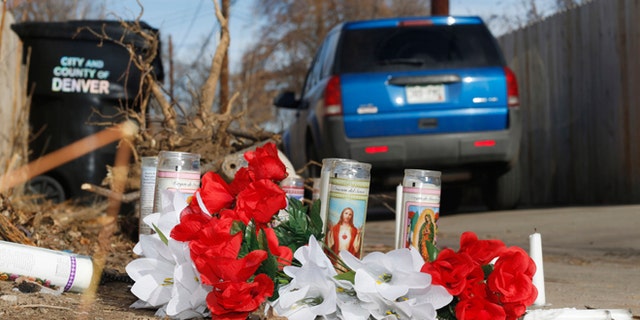 NEWYou can now listen to Fox News articles!
DENVER (AP) – Two Denver police officers won't face charges in the fatal shooting of a 17-year-old girl driving a stolen car in January, and the teen was to blame because she ignored officers' orders, the city's district attorney said Friday.
Jessica Hernandez didn't hit either officer when she drove toward them in an alley, but Mitch Morrissey said the car was dangerously close to Officers Gabriel Jordan and Daniel Greene, threatening Jordan's life.
"If there is one message I hope our community understands from this case, it is that this shooting was completely preventable," Morrissey wrote in a letter to police explaining his decision. "It would not have occurred if Hernandez had simply complied with lawful police orders."
An attorney for Hernandez's family immediately decried the decision, saying the officers were too quick to use deadly force. Qusair Mohamedbhai agreed the shooting was preventable, but he said it was the result of poor police practices and training.
"Jessie and her friends were placed in danger by Denver Police officers' decision to employ unnecessary deadly force as a matter of first resort," he said in a statement. "Denver refuses to take responsibility for its officers' excessive and unreasonable conduct, and instead has once again blamed Jessie for her own death."
The Jan. 26 shooting sparked angry protests and followed racially charged killings by police elsewhere. On Friday, the American Civil Liberties Union of Colorado and other community leaders renewed calls for an independent review of Hernandez's shooting, claiming that Morrissey's work with police as a prosecutor constituted a conflict of interest.
Morrissey's decision "doesn't alleviate the suffering and pain to our community and to the family members who lost this adolescent," said Rudy Gonzales, co-chair of the Denver chapter of the Colorado Latino Forum. "It doesn't alleviate the frustration and anger that we continue to embody and manifest over these issues."
The shooting was the fourth time in seven months that Denver officers fired into a moving vehicle, and the department said in a statement that it continues to review its policies related to that practice.
The officers are now on desk duty. The department said it will start its internal probe of the shooting now that Morrissey has made his decision.
The officers told investigators they were investigating a report of a suspicious vehicle when they discovered the stolen Honda Civic in a residential alley. Four other teens were in the car, sleeping after a night out.
Greene had pulled up behind the Honda, and Jordan pulled up in front. They both drew their weapons and ordered the teens out of the car. Instead, Hernandez slowly backed into Greene's patrol car, then drove slowly toward Jordan, according to the officers' accounts contained in Morrissey's letter.
Hernandez reversed again, hit a fence and then accelerated forward toward Jordan, who said the car was so close he pushed it with his hand. From the driver's side, the officers fired eight shots into the Honda, hitting Hernandez three times. None of the other teens were injured.
Photos from the scene showed the car with bullet holes in the driver's-side window and windshield.
"This begs the question of why Hernandez chose to not comply with those orders," Morrissey wrote. "Perhaps she feared being caught driving a stolen car. Perhaps her judgment was impaired by marijuana and alcohol. ... What is clear from the facts and needs no inference is that her decisions created a very dangerous situation, not just to herself and to the officers, but also to her friends who were in the car with her."
An autopsy report showed Hernandez had marijuana and a small amount of alcohol in her system. Investigators found open bottles of alcohol and a marijuana pipe in the car.
Police Chief Robert White initially said Jordan was hit in the leg by the car. But Jordan told investigators he didn't remember the car hitting him. Doctors said he suffered a possible fracture, but not by being struck.
Soon after the shooting, a passenger in the car, speaking to The Associated Press on condition of anonymity because of safety concerns, disputed the official account of the shooting, saying officers didn't yell commands and Hernandez likely lost control of the vehicle because she was shot and was unconscious.
But according to Morrissey, the car's passengers told investigators that Hernandez started the car even as they could see the officers with guns drawn and hear them yelling, "Put your hands up!" One passenger said Hernandez's friends were screaming for her to drive away and that she probably didn't mean to hit the officer.
Like us on Facebook
Follow us on Twitter & Instagram