Denver police shoot, kill 16-year-old girl who allegedly struck a police officer with stolen car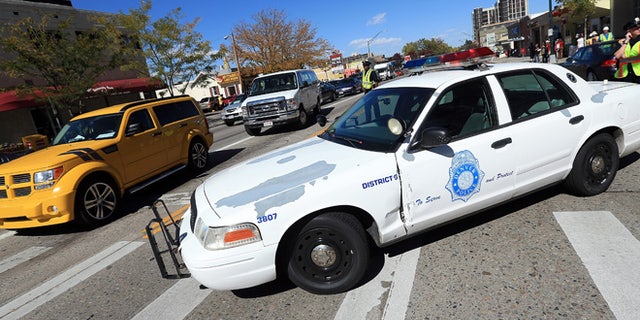 NEWYou can now listen to Fox News articles!
DENVER (AP) – Several dozen people with candles and protest signs gathered near the alley where Denver police officers fatally shot a 16-year-old girl, recalling her bright smile and demanding answers about the deadly encounter.
Police shot the teenager early Monday morning after they say she struck and injured an officer with a stolen car. Authorities did not release the girl's name, but friends identified her as Jessica Hernandez.
"We're angry about it. It's another life taken by another cop," said 19-year-old Cynthia Valdez, a close friend and schoolmate of the girl. "She was trying to find her talent. She wanted to find out what she wanted to be. ... Who knows what she could have been?"
Few details were immediately released after the shooting in an alley in the older, middle-class residential neighborhood. The four other people in the car were not injured by the gunfire, and all were being questioned as part of the investigation, police said. It was not clear whether any had been arrested.
Police Chief Robert White said an officer was called to check on a suspicious vehicle and a colleague arrived after it was determined the car had been reported stolen.
In a statement, police said the two officers then "approached the vehicle on foot when the driver drove the car into one of the officers."
White said both officers then opened fire. The officer hit by the car was taken to a hospital with a leg injury.
Bobbie Diaz, whose 16-year-old daughter was in the car, said she was lying in bed when she heard four gunshots followed by an officer yelling "Freeze! Get out of the car! Get down!"
Diaz said she came outside to see officers with their guns drawn pulling people out of the car, including Jessica.
"She seemed like she was not responding, not moving," she said. "They just yanked her out and handcuffed her."
Meanwhile, Diaz said she heard another person screaming "She's dead! She's dead!"
"I'm just trying to process everything. I'm just heartbroken for the girl's family," Diaz said. "How could something like this happen again?"
Another woman, Arellia Hammock, who has lived in the neighborhood for about a decade, said she heard three gunshots about 6:30 a.m. and then saw several police cars streaming down the street. Hammock said she understands one of the officers was injured, but "that's still no reason to shoot."
"They shouldn't have stolen a car. But the cops are too fast on the gun," she said. "You've got stun guns. You've got rubber bullets. Why do they have to shoot all the time?"
That sentiment was echoed during Monday's vigil as some held signs decrying police brutality.
One of the signs read "Girls' Lives Matter," a play on the "Black Lives Matter" chant that became a rallying cry after the police killings of unarmed black men in Ferguson, Missouri and New York City.
"It should have been handled differently. She's a young girl. I'm just not OK with it," said 16-year-old Destiny Moya, who grew up with Jessica.
Both officers involved in the shooting have been placed on administrative leave pending the investigation, which was being conducted by police, the district attorney and the Office of the Independent Monitor, a civilian oversight agency for the city.
Like us on Facebook
Follow us on Twitter & Instagram