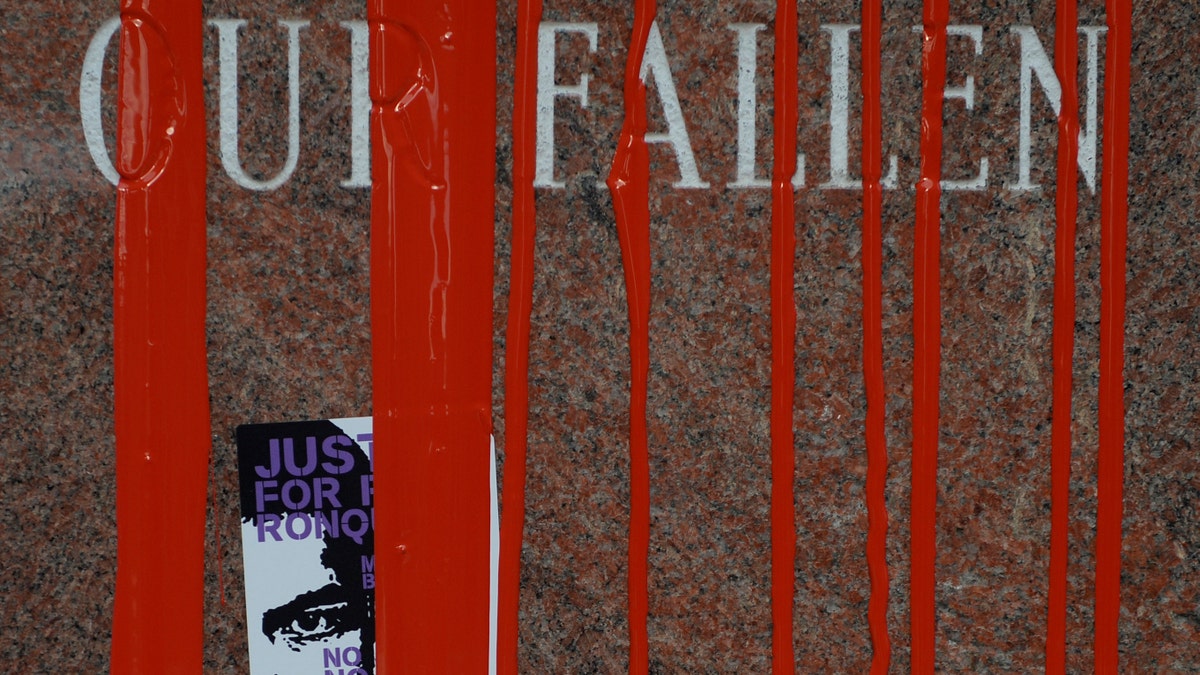 DENVER (AP) – Denver Police Chief Robert White on Sunday defended his policy ordering police not to interfere with protesters, saying he found it "disgusting" that they vandalized a memorial for fallen police officers while officers had to stand by and watch, but he said their restraint was necessary to protect the community.
Protesters threw red paint on the memorial outside the department's headquarters Saturday during a march against police brutality.
Officers and the city's police union were upset after they were told not to interfere.
In an email sent throughout the department Sunday, White said there are only rare occasions when police would have to take "immediate enforcement action" during a demonstration.
"We have learned that providing route security at a distance and intentionally avoiding direct confrontation prevents injury to officers, limits liability, and minimizes the criminal actions of many protesters," the chief wrote in the email obtained by The Associated Press. The email came after officers said they should have been allowed to act sooner upon witnessing a crime.
Denver Director of Public Safety Stephanie O'Malley said the policy of restraint is "a model for other cities as they respond to a growing wave of protests across America."
Denver police issued the policy following widespread protests over several people killed by police, including the police shooting of Michael Brown, an unarmed, black 18-year-old in Ferguson, Missouri, and the police chokehold death of Eric Garner in New York City. Officers involved in both deaths were later cleared of any charges by local grand juries.
In Denver, some protesters held signs in support of Jessica Hernandez, a teenager who was shot and killed by Denver officers last month after she drove a stolen car toward an officer.
Matthew Goldberg, 23, and Robert Guerrero, 25, were charged with criminal mischief-vandalism for throwing red paint on the memorial during the rally.
"That our officers, working the demonstration today, had to watch the outrageous vandalism to our sacred memorial, without being able to intervene, is inexcusable and unacceptable," Denver Police Officer Danny Veith wrote in an email to White. "Equally alarming is the escalation of anti-police rhetoric in our city, incendiary language and actions that have yet to be countered by city leaders, the mayor, or yourself."
Veith told the AP he sent the email because he feels the rank-and-file aren't heard in the chief's office, but he declined to comment further.
White said the decision not to intervene in Saturday's protest was appropriate because police had identified suspects and had a plan to arrest them. Mayor Michael Hancock said in a statement late Sunday that he condemns the "repulsive defacing" of the memorial but supports White's decision not to engage. Hancock said officers showed "dignity in a terrible situation."
Nick Rogers, president of the union that represents the majority of Denver's approximately 1,400 officers, said the chief's decision "empowers lawlessness."
"What that tells protesters is, you can do whatever you want, we'll take care of it later," said Victoria Oliver, a police union board member. "Law enforcement agencies across the nation are under siege right now. The administration needs to back us at some point — just some show of support."