Delay in bringing charges against officer could cost Chicago prosecutor her job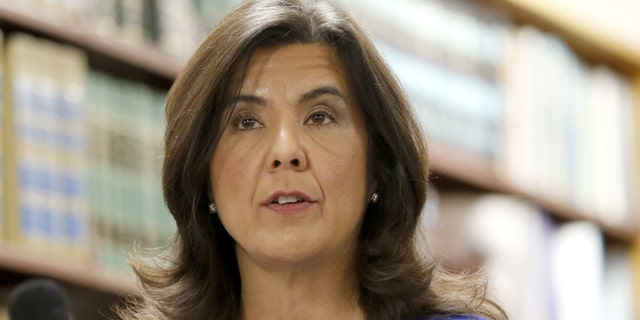 CHICAGO (AP) – It took more than a year from the night a white Chicago police officer fatally shot a black teenager until the city's top prosecutor announced murder charges against the patrolman — a long wait that has provoked sharp criticism of Cook County State's Attorney Anita Alvarez.
Next it could cost Alvarez her job.
The first woman and first Hispanic to serve in the job, Alvarez was facing a tough 2016 re-election even before last week's release of the footage of officer Jason Van Dyke shooting Laquan McDonald 16 times in October 2014.
Since then, protesters marching through Chicago streets have accused her of trying to cover up the crime and of only announcing a first-degree murder charge because a judge had ordered the video's release. A majority of the city council's Latino members and U.S. Rep. Luis Gutierrez — key political supporters — have said they will no longer back her.
Her opponents in the March primary say the race is suddenly attracting national attention — and campaign donations.
"The people don't trust her to do the right thing," said Donna More, a former state and federal prosecutor who along with Kim Foxx, former chief of staff to the county board president, is trying to unseat Alvarez.
Alvarez's spokeswoman did not respond to a request for comment from the Associated Press on Wednesday. But Alvarez in recent days has defended her actions as those of a careful, experienced prosecutor, and has said she will stay in office as long as voters will have her.
"I have no intentions of resigning," Alvarez told Chicago public television station WTTW in an interview Tuesday.
Alvarez is a career prosecutor who surprised many — herself included — when she defeated five men to win the 2008 Democratic primary, her first bid for public office. Running without the backing of any major local political organizations, she portrayed herself as a protective mom and tough-on-crime prosecutor who said she'd take on the "good ol' boy mentality" that had driven the office for too long.
She pledged to hire more minority prosecutors and help end a deep distrust between law enforcement and the community — one that grew over decades as Chicago earned a reputation for police torture of suspects and wrongful convictions.
Alvarez points to her work increasing diversion programs for low-level offenders and strengthening gun and gang laws. But her tenure, like her predecessors', has seen controversies.
In April, a judge acquitted a Chicago police officer who fatally shot an unarmed 22-year-old woman while off-duty, suggesting Alvarez's office mishandled the case by charging him with involuntary manslaughter rather than murder.
A separate judge has criticized Alvarez's reinvestigation of a 2004 fight between the nephew of former Mayor Richard Daley and another man, who died after he fell and hit his head. David Koschman's mother filed a lawsuit accusing the state's attorney's office of a cover-up. In September, the office agreed to settle the suit for $50,000.
Alvarez has said her office acted properly.
The anger surrounding those cases, however, pales in comparison with the McDonald shooting.
Alvarez herself described the video as "violent" and "chilling," and said she opened an investigation "immediately" after seeing it. That was Nov. 4, 2014 — more than a year before she charged Van Dyke with first-degree murder. In the meantime, he continued to work desk duty.
The video shows McDonald, who was armed with a 3-inch folding knife, running down the middle of the street. As Van Dyke gets out of his vehicle to face the teen, McDonald veers away from him. Van Dyke begins firing. He continues to empty his weapon, even after McDonald falls to the ground.
Alvarez said she understands why people are baffled by the delay. But she says the video is only one piece of evidence and that her office — working with the FBI and the U.S. Attorney's Office — has been working to build the strongest case possible to ensure a conviction. That's included interviewing "many, many witnesses" and waiting for results of forensic testing.
"I've been doing this a long time. I know what a defense attorney is going to argue," Alvarez said. "We were leaving no stone unturned."
Others have questioned that logic.
Andrea Zopp, a former assistant state's attorney and federal prosecutor running for the Democratic nomination for U.S. Senate, called the delay "incomprehensible."
While she was in the Cook County State's Attorney's office in the 1990s, Zopp said she indicted a police officer who fatally shot a homeless man who was unarmed.
"We brought those charges within two months of the killing — without a video," said Zopp, who has called for a special prosecutor to handle the latest case.
Meanwhile Foxx's campaign said the shooting has drawn national attention to the race, and the former chief of staff to county board President Toni Preckwinkle has started to receive contributions from across the U.S.
"It's a time for sweeping changes," Foxx said.