Defense Secretary Shoots Down Effort To Get Medal Of Honor For Marine Sergeant Killed In Iraq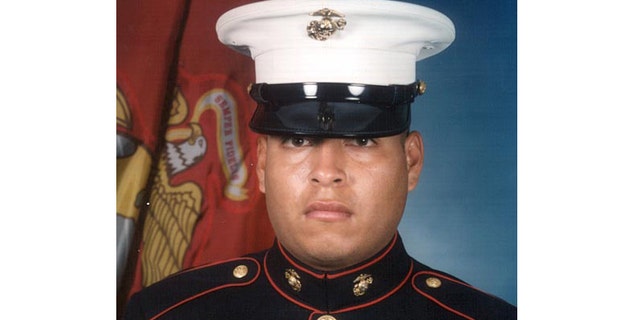 The Department of the Navy awarded him its second-highest distinction – the Navy Cross.
A destroyer is named after him.
But Marine Corps Sgt. Rafael Peralta, who was killed in the Iraq War in 2004 and has been one of its most heralded heroes, will not be getting a Medal of Honor, said Secretary of Defense, Chuck Hagel.
Hagel's announcement, made in recent days, marks the latest decision by a U.S. defense secretary not to give Peralta a distinction that many of his comrades and members of Congress have pushed for him to receive.
At issue are two conflicting of versions of what Peralta did – or didn't do – in his final moments.
Some fellow veterans say that Peralta, although badly wounded, scooped up a grenade that was near his body, and put it under himself to save the lives of his comrades.
A Navy Department citation echoes that.
"Without hesitation and with complete disregard for his own personal safety, Sergeant Peralta reached out and pulled the grenade to his body, absorbing the brunt of the blast and shielding fellow Marines only feet away," the citation says, according to published reports.
"Sergeant Peralta succumbed to his wounds. By his undaunted courage, intrepid fighting spirit, and unwavering devotion to duty, Sergeant Peralta reflected great credit upon himself and upheld the highest traditions of the Marine Corps and the United States Naval Service."
In 2005, President George W. Bush noted Peralta's heroism, saying: "Sergeant Peralta gave his life to save his fellow Marines."
But in explaining his decision not to reopen the case of a Medal of Honor for Peralta, Hagel issued a statement saying that after familiarizing himself with the history of the case, he decided the evidence does not meet the standard of proof required for the recognition.
The Marine Corps nominated Peralta for the award posthumously, and it was approved by the Navy Department. But it was turned down by then-Defense Secretary Robert Gates in 2008.
He said the evidence that Peralta had the grenade underneath him after intentionally scooping it up was inconclusive.
Gates' successor, Leon Panetta, affirmed Gates' decision in December 2012 after reviewing further evidence.
In an interview with the Washington Post, a comrade of Peralta's who was with him that day said unequivocally that his fallen Marine exhibited courage of the kind "you only hear about in boot camp. To live it out was unreal."
Reynolds said, "He gave me a chance to a second life."
But in an interview with the Washington Post, two of Peralta's fellow Marines who say they were near him on the day in question say he did not intentionally cover the grenade with his body.
The former Marines said that some men in Peralta's unit thought they may have accidentally shot him and decided to concoct the story about him taking the grenade in order to do something noble for him.
"It has always bugged me," said Davi Allen, whom the Post identified as a Marine who was wounded in the grenade blast that occurred that day. Allen contended that the grenade exploded near, but not under, Peralta.
The Post described Allen as someone who had echoed the story about Peralta's heroics, but has changed his account to what he now says is the truth.
"Who wants to be the one to tell a family, 'Your son was not a hero'?"
Adam Morrison, a staff sergeant who is still in the Marines, did not want to discuss his recollections of that fateful day, according to the Post.
"I fully respect and honor both viewpoints of the Marines that have testified to this event, and I have nothing but the highest esteem for all those who were there and fought alongside Sgt. Peralta," he said in an e-mail, according to the Post. "I am honored to have been trained and fought alongside Sgt. Peralta. I believe Sgt. Peralta saved my life."
Peralta's family says they will not give up. They refused to accept the Navy Cross, saying they would not settle for anything less than the Medal of Honor.
U.S. Rep. Duncan Hunter (R-Calif.) is among those pushing for the Department of Defense to award the Medal of Honor to Peralta.
The Los Angeles Times reported that Hunter cited "new evidence in the form of pictures detailing the damage done to Peralta's body armor and rifle proved that the grenade exploded beneath" Peralta's body and justified a reopening of the case.
"Peralta has a Navy Cross. That can never be taken away and his legacy will endure, and that's something that no one can take away from him, his family or the Marine Corps,' said a statement by Hunter to the media.
The Associated Press contributed to this report.
Follow us on twitter.com/foxnewslatino
Like us at facebook.com/foxnewslatino