Defense: No solid evidence Indonesian woman killed friend with cyanide in coffee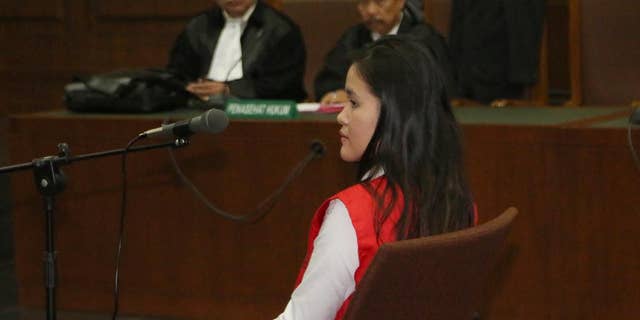 NEWYou can now listen to Fox News articles!
JAKARTA, Indonesia – Lawyers for an Indonesian woman accused of murdering her friend by lacing her coffee with cyanide told an overflowing courtroom Wednesday that the evidence against her was vague and illogical.
Indonesians have been riveted by the case, which has also attracted attention in Australia because the suspect, Jessica Kumala Wongso, 27, was a permanent resident and studied in Sydney.
The victim, Wayan Mirna Salihin, collapsed and died Jan. 6 after sipping her coffee in a Jakarta cafe where she was meeting Wongso and another friend. Police say laboratory tests showed the drink contained cyanide.
But Wongso's lawyers said video from a surveillance camera shows no one interfered with the drink, and asked for the case to be thrown out.
Wongso's chief lawyer, Otto Hasibuan, ridiculed the prosecution's contention that the motive was Salihin's advice that Wongso break up with her troublesome boyfriend.
"Does it make sense that Jessica is accused of plotting the murder just because of Mirna's advice to sever her relationship with her boyfriend?" he said. "That is a reason that could not be accepted by common sense."
Police have struggled to bring the case to trial, with the Jakarta prosecutor's office deferring it several times because of insufficient evidence. The case was accepted after Indonesian investigators gained additional information from the Australian Federal Police.
Wongso is charged with premediated murder, which is a capital crime in Indonesia. But if found guilty she could avoid the death penalty because of an Indonesian government promise it wouldn't be imposed in exchange for the Australian police's help.
Australia opposes the death penalty and relations between it and Indonesia were strained last year after two Australians were executed along with other foreigners for drug crimes.