Deep Freeze: Subzero Temperatures Hit Midwest; Wind Chill Reaches -60 In Places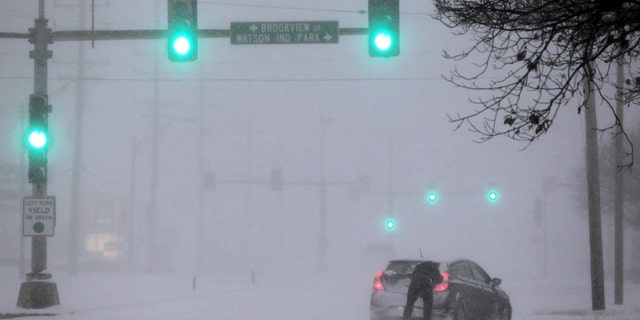 CHICAGO (AP) – A whirlpool of frigid, dense air known as a "polar vortex" descended Monday into much of the U.S., pummeling parts of the country with a dangerous cold that could break decades-old records with wind chill warnings stretching from Montana to Alabama.
For a big chunk of the Midwest, the subzero temperatures were moving in behind another winter wallop: more than a foot of snow and high winds that made traveling treacherous. Officials closed schools in cities including Chicago, St. Louis and Milwaukee and warned residents to stay indoors and avoid the frigid cold altogether.
The forecast is extreme: 32 below zero in Fargo, N.D.; minus 21 in Madison, Wis.; and 15 below zero in Minneapolis, Indianapolis and Chicago. Wind chills — what it feels like outside when high winds are factored into the temperature — could drop into the minus 50s and 60s.
"It's just a dangerous cold," said National Weather Service meteorologist Butch Dye in Missouri.
It hasn't been this cold for almost two decades in many parts of the country. Frostbite and hypothermia can set in quickly at 15 to 30 below zero.
Lorna West, a 43-year-old student and consultant from Columbus, Ohio, said she doesn't believe people unaccustomed to such weather are ready for what's coming.
A Chicago native, she said thermal underwear, lots of layers and "Eskimo coats" with zipped hoods to block the wind were the norm growing up.
"And don't go out if you don't have to," she said.
It was 5 degrees at kickoff Sunday inside sold-out Lambeau Field for a playoff game between the Green Bay Packers and the San Francisco 49ers, one of the coldest ever played.
In the parking lot, Craig and Renee Heling of Waukesha, Wis., set up a camouflage hunting blind behind his white pickup truck and tailgated next to a propane heater. He wore four layers of clothing up top, two on his legs: "Two wool socks on — right now, I feel comfortable," he said.
"Well, my nose is about frozen. It feels like — I jumped in the lake the other day — it feels about like that," his wife said with a laugh. She was completely dry, unlike New Year's Day when she took part in a "polar plunge" into Lake Michigan.
Indianapolis Mayor Greg Ballard upgraded the city's travel emergency level to "red," making it illegal for anyone to drive except for emergencies or seeking shelter. The last time the city issued such a travel warning was during the 1978 blizzard.
For several Midwestern states, the bitter cold was adding to problems caused by a weekend snow storm. The National Weather Service said the snowfall at Chicago's O'Hare International Airport totaled more than 11 inches as of 6 p.m. Sunday — the most since the Feb. 2, 2011, storm that shut down the city's famed Lake Shore Drive.
Police in suburban Detroit said heavy snow was believed to have caused the roof to collapse at a two-story building that once housed a bar. No injuries are reported and police said no one was inside the building in Lake Orion, Mich., about 7 p.m. Sunday when the roof collapsed.
Missouri transportation officials said it was too cold for rock salt to be very effective, and several Illinois roadways were closed because of drifting snow.
A bus taking the Southern Illinois University men's basketball team home from a game at Illinois State got stuck in the snow Sunday night off Interstate 57, forcing the group to wait for a tow truck and make plans for a night at a hotel in nearby Tuscola, Ill.
More than 1,000 flights were canceled Sunday at airports throughout the Midwest including Chicago, Indianapolis and St. Louis.
Many cities came to a virtual standstill. In St. Louis, where more than 10 inches of snow fell, the Gateway Arch, St. Louis Art Museum and St. Louis Zoo were part of the seemingly endless list of things closed. Shopping malls and movie theaters closed, too. Even Hidden Valley Ski Resort, the region's only ski area, shut down.
School was called off Monday for the entire state of Minnesota, as well as cities and districts in Wisconsin, Illinois and Indiana and Iowa, among others. Chicago Public School officials reversed an earlier decision to keep schools open, announcing late in the day Sunday that classes would be canceled Monday.
Government offices and courts in several states closed Monday. In Indiana, the General Assembly postponed the opening day of its 2014 session, and the state appellate courts, including the Indiana Supreme Court, said they would be closed.
Ray Radlich was among the volunteers at New Life Evangelistic Center, a St. Louis homeless shelter, who was braving the cold as part of search teams that seek out the homeless and get them to shelters.
Among those Radlich and his team brought in Sunday was 55-year-old Garcia Salvaje, who has been without a home since his apartment burned last week. Salvaje, a veteran, had surgery three months ago for a spinal problem. The cold makes the pain from his still-healing back intense.
"I get all achy and pained all the way up my feet, to my legs, up my spine," Salvaje said.
Southern states were bracing for possible record temperatures, too, with single-digit highs expected Tuesday in Georgia and Alabama.
Temperatures plunged into the 20s early Monday in north Georgia, the frigid start of dangerously cold temperatures for the first part of the week. The Georgia Department of Transportation said its crews were prepared to respond to reports of black ice in north Georgia.
Temperatures were expected to dip into the 30s in parts of Florida on Tuesday. Though Florida Citrus Mutual spokesman Andrew Meadows said it must be at 28 degrees or lower four hours straight for fruit to freeze badly, fruits and vegetables were a concern in other parts of the South.
With two freezing nights ahead, Louisiana citrus farmers could lose any fruit they cannot pick in time.
In Plaquemines Parish, south of New Orleans, Ben Becnel Jr. estimated that Ben & Ben Becnel Inc. had about 5,000 bushels of fruit on the trees, mostly navel oranges and the sweet, thin-skinned mandarin oranges called satsumas.
"We're scrambling right now," he said.
In western Kentucky, Smithland farmer David Nickell moved extra hay to the field and his animals out of the wind. He'd also stocked up on batteries and gas and loaded up the pantry and freezer. The 2009 ice storm that paralyzed the state and knocked out power to hundreds of thousands of people is fresh in his mind.
"We are hoping this isn't going to be more than a few days of cold weather, but we did learn with the ice storm that you can wake up in the 19th century and you need to be able to not only survive, but be comfortable and continue with your basic day-to-day functions," Nickell said.
Follow us on twitter.com/foxnewslatino
Like us at facebook.com/foxnewslatino