Decision looms on Assange extradition to Sweden
STOCKHOLM – Swedish authorities are getting closer to either indicting WikiLeaks founder Julian Assange on rape charges stemming from an incident in August 2010 or letting it drop, Fox News has learned.
A decision could come in a matter of a few months, an eyeblink in the context of an international saga that has dragged on for 6½ years. The latest development follows a November interview a Swedish prosecutor conducted with Assange at his self-imposed exile in the Ecuadorean Embassy in London, an interrogation many say was long overdue.
"If I was in charge, I would have tried very hard to have him interviewed in a very, very early possible period," former Swedish prosecutor Sven-ErikAlhem told Fox News.
While no one knows exactly what evidence Swedish prosecutors have, experts told Fox News the third-degree rape case against Assange, which included consensual sex at the time, could be a difficult charge to make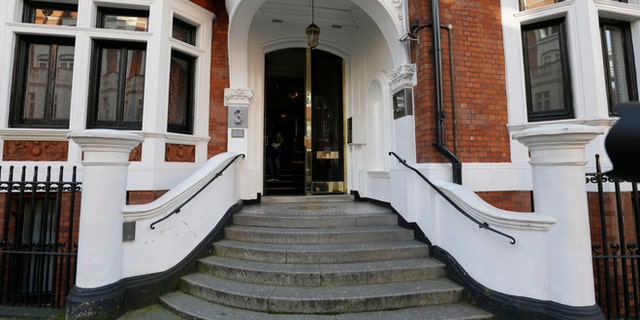 "You need to prove beyond a reasonable doubt that the accused did it," legal expert Marten Schultz said. "This is difficult to prove."
ASSANGE SAYS HE STANDS BY PLEDGE TO COME TO US
Within Sweden, where people are highly sensitive to sexual-assault cases, there is concern that even if Assange is charged, he might try to wait out the statute of limitations. Under Swedish law, he would have to avoid prosecution for another three years.
"I think people will be upset if the person can stay away so long and then not be charged," women's rights lawyer Elina Lindner said.
The sexual-assault case is separate from Assange's controversial work with WikiLeaks, which has included publishing millions of sensitive documents that the Pentagon claims put American service members and intelligence operatives in danger and emails that rocked the 2016 presidential campaign. Assange's supporters have claimed the sexual assault case was brought to silence him. Assange himself has claimed that Washington has manipulated the case to get him to the U.S. to face alleged espionage charges.
The 45-year-old native Australian founded WikiLeaks in 2006 as an online publisher of leaked documents obtained from whistle-blowers.
The rape and sexual-assault allegations stem from an August 2010 appearance in Sweden during which he had sex with two women. The sex charges were made by prosecutors based on the women's testimony. The case was dropped, then picked up again. Assange was questioned regarding some of the charges and was permitted to leave the country.
In June 2012, Assange applied for and was granted asylum in the Ecuadorean Embassy in London. At the time, he said he was not motivated by the pending charge in Sweden, but by concern that extradition there would lead to his being sent to the U.S.
Swedish officials told Fox News there is no extradition order on file to send Assange to the U.S. if he is brought to Sweden. Such an extradition maneuver would be difficult under Swedish law, experts said.
Assange previously said he would willingly come to the U.S. and face possible espionage charges if Chelsea Manning, the former Army private who supplied WikiLeaks with highly classified documents, was pardoned. Although President Obama did in fact pardon Manning last week, it appears unlikely that Assange will make good on his pledge.
In a social media press conference Thursday, Assange said if he goes it would happen only after Manning's scheduled May release and he would only come to the U.S. to discuss the case with Justice Department officials if his rights were "protected."
For now, the most likely venue for Assange to face justice remains Sweden, where there is an extradition order and a charge being investigated.
"He should look at a map," Thomas Mattsson, editor-in-chief of the Stockholm daily newspaper Expressen told Fox News. "He should go in the opposite direction."