Death Toll Rises to Over 100 in Nigeria Attacks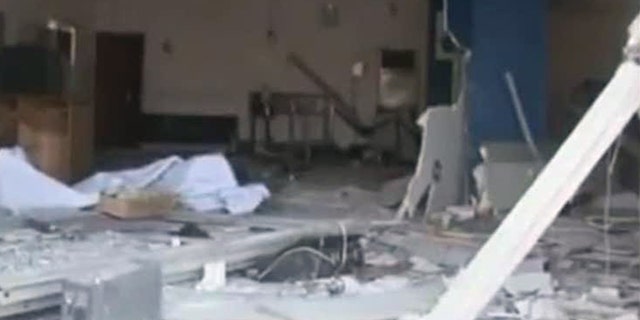 LAGOS, Nigeria – More than 100 died in a series of attacks in northeast Nigeria launched by a radical Muslim sect, a Nigerian Red Cross official said Sunday, as sect gunmen shot and killed another police officer.
Ibrahim Bulama told The Associated Press he expected the number of dead to rise as local clinics and hospitals tabulate the casualty figures from the attacks Friday in Damaturu, the capital of rural Yobe state.
While the hard-hit city remained calm and its Muslim inhabitants celebrated a religious holiday Sunday, army and police units manned roadblocks leading into the town and streets remained largely quiet, Bulama said.
Meanwhile, the sect known locally as Boko Haram killed a police inspector Sunday in the city of Maiduguri, the sect's spiritual home about 80 miles (130 kilometers) east of Damaturu. Sect gunmen stopped the officer's car at gunpoint as he neared a mosque to pray with his family, local police commissioner Simeon Midenda said.
Gunmen ordered the family away, then shot the inspector to death, Midenda said. The sect members later allowed his family to drive the car away, he said.
The killing prompted a frank acknowledgment from the police commander, whose men remain under siege from constant assassinations by the radical sect.
"Our men who live in the midst of the Boko Haram are not safe," Midenda said.
Statements issued late Saturday show the U.N. Security Council called the attacks Friday in the cities of Damaturu and Maiduguri "criminal and unjustifiable" and asked members to help Nigerian authorities bring those responsible to justice.
A statement on behalf of Secretary-General Ban Ki-moon called for "an end to all violence in the area," while offering sympathy for the victims.
Pope Benedict XVI on Sunday appealed for an end to all violence, saying it only increases problems, sowing hatred and division even among the faithful. He told tourists in St. Peter's Square that he is following with apprehension the news from Nigeria.
Boko Haram claimed responsibility for the attacks Friday, which included suicide bombings and shootings.
Boko Haram wants to implement strict Shariah law across Nigeria, an oil-rich nation of more than 160 million which has a predominantly Christian south and a Muslim north. Its name means "Western education is sacrilege" in the local Hausa language, but instead of schooling, it rejects Western ideals like Nigeria's U.S.-styled democracy that followers believe have destroyed the country with corrupt politicians.
Boko Haram's attacks occurred ahead of Sunday's Eid al-Adha celebration, or the feast of sacrifice, when Muslims around the world slaughter sheep and cattle in remembrance of Abraham's near-sacrifice of his son. Police elsewhere in the country had warned of violence ahead of the celebration in Nigeria.
An Associated Press count shows the group has killed at least 361 people this year alone.