Death toll from Russian wildfires reaches 40, Moscow shrouded in new blanket of smoke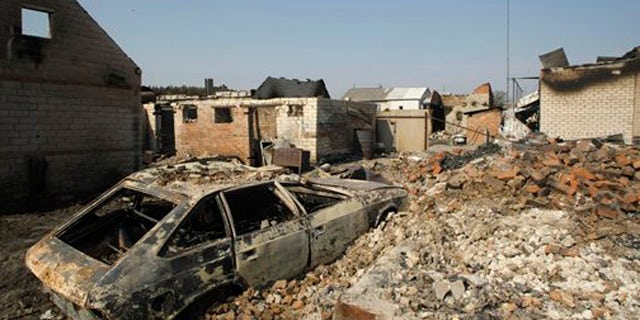 MOSCOW – MOSCOW (AP) — The death toll from wildfires raging across central and western Russia rose to 40 on Monday, as millions of Muscovites coughed through a haze of smoke from burning peat bogs and firefighters scrambled to put out hundreds of new blazes.
The fires come after weeks of searing heat and practically no rain. Although temperatures in the Moscow area dipped modestly over the weekend, experts predict they'll climb back to around 38 C (100 F) this week.
Still, firefighters on Monday reported making some headway against the blazes that have destroyed hundreds of homes, burned through vast sections of tinder-dry land and forced thousands to evacuate.
Vladimir Stepanov, head of Russia's Emergencies Ministry's crisis center, said about 500 new wildfires were sparked nationwide in the past 24 hours but most of them were immediately doused.
"Most importantly, the mission we are tasked with — to avert the spread of fires to population centers, and to avoid more death — is being accomplished," Stepanov said in televised comments.
Muscovites awoke Monday to a sharp burning smell from the smoldering peat bogs south and east of the capital, haze that has increased the city's already-high pollution readings.
Wildfires were still burning Monday across some 300,000 acres (125,000 hectares), mostly in central and western Russia, slightly less than the area engulfed in flames over the weekend, Stepanov said.
About 1,500 homes have been wiped out by fires. Regional Development Minister Viktor Basargin on Monday estimated the cost of fire damage at more than 6.5 billion rubles ($210 million).
The Health Ministry on Monday said 40 people have died in the fires, 19 of them in the Nizhny Novgorod region 400 kilometers (250 miles) east of Moscow.
In all, wildfires were reported in 17 of Russia's regions. President Dmitry Medvedev on Monday declared a state of emergency in seven of the regions, including the area that surrounds but does not include Moscow.
In the half-destroyed village of Maslovka near Voronezh, emergency officials handed out food and clothing to residents Monday as the heavy smoke and smog cleared. In the nearby village of Shuberovskoye, which also had been decimated by fire, locals complained that they were abandoned by firefighters.
"Nobody came to us and nobody helped us," said Anna Izmakina, 79. "We called by phone several times, trying to call firefighters — they set off, but never arrived."
She said she managed to salvage a few possessions before fire engulfed her home.
Prime Minister Vladimir Putin on Monday warned that local officials who don't respond adequately to the fires are in danger of losing their jobs.
"I recommend the heads of municipalities about whom citizens have big doubts should step down," he said, according to the ITAR-Tass news agency.
Emergencies Minister Sergei Shoigu urged Russians vacationing in rural areas to be especially vigilant about disposing of flammable materials, since barbecues are a popular activity.
Russian news agencies reported that some of those rendered homeless by the blazes received the first part of a 200,000-ruble compensation package ($6,600) promised on Friday by Putin.
_____
Associated Press writers David Nowak in Moscow, Mikhail Metzel in Maslovka, Russia, and Oleg Yuriev in Shuberovskoye contributed to this report.