Death toll from Pakistan heavy rains rises to 80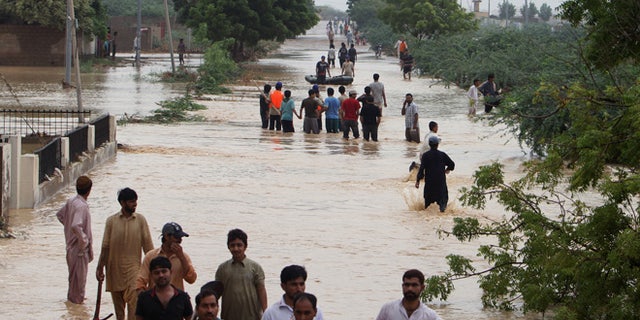 NEWYou can now listen to Fox News articles!
ISLAMABAD – Heavy rains that caused flash floods and collapsed houses in different parts of Pakistan have killed 80 people and displaced more than 80,000 over the past four days, a Pakistani official said Tuesday.
Civil and military authorities have launched rescue and relief efforts to deal with the crisis, said Brig. Kamran Zia, a senior member of the National Disaster Management Authority. He said the deaths from the flooding span the entire country.
In neighboring Afghanistan, the same storm system hit in the eastern part of the country, leveling homes and killing at least 75 people in five provinces since Saturday, Afghan relief official Mohammad Daim Kakar said late Monday.
In Pakistan, 12 people were killed in the semiautonomous tribal region in the northwest, 10 in neighboring Khyber Pakhtunkhwa province, and three in the Pakistan-held part of the disputed Kashmir region. Fifteen people also died in central Punjab province, 18 in southwestern Baluchistan, and 22 in southern Sindh.
Flooding has displaced 81,341 people in Punjab, Khyber Pakhtunkhwa and Sindh, the National Disaster Management Authority said on its website. No figure was given for Baluchistan.
Pakistan regularly suffers from flooding during the monsoon season, which usually runs through July and August. The country suffered the worst floods in its 66-year history in 2010, when floodwaters inundated one-fifth of the country, killing over 1,700 people. More than 20 million people were affected at the time.