Death Toll From Floods in Philippines Nears 1,000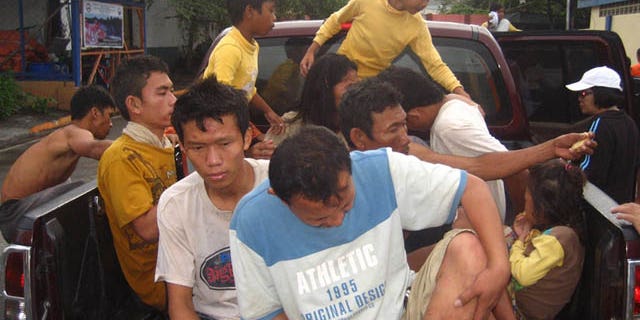 ILIGAN, Philippines – The Philippine government shipped more than 400 coffins Tuesday to two flood-stricken cities in the south where the death toll neared 1,000 as President Benigno Aquino III declared a state of national calamity and relief agencies rushed to help.
The latest count listed 957 dead and 49 missing and is set to climb further as additional bodies are being recovered from the sea and mud in Iligan and Cagayan de Oro cities.
A handful of morgues are overwhelmed and running out of coffins and formaldehyde for embalming. Aid workers appealed for bottled water, blankets, tents and clothes for many of 45,000 displaced in crowded evacuation centers.
Navy sailors in Manila loaded a ship with 437 white, wooden coffins to help local authorities handle the staggering number of dead. Also on the way were containers with thousands of water bottles.
Most of the dead were women and children who drowned Friday night when flash floods triggered by a tropical storm gushed into homes while people were asleep.
A Briton was the first foreigner reported dead in the flooding, according to the British Embassy in Manila. It didn't provide details.
Aquino, on a visit to Cagayan de Oro on Tuesday, said the national calamity declaration will help local authorities gain quick access to recovery funds and keep prices of basic goods stable.
"Our national government will do its best to prevent a repeat of this tragedy," Aquino told residents who came out to greet him.
He said there would be an assessment of what went wrong and why so many people died, if there was ample warning that a storm would sweep through the area and why people living along riverbanks and close to the coast had not been moved to safety.
"I do not accept that everything had been done. I know that we can do more. We must determine what really happened," Aquino said. "Must this end in tragedy? We knew that (storm) was coming. There should have been efforts to avoid the destruction."
The U.N. food agency flew in 3 tons of high-protein biscuits together with water tanks, blankets, tarpaulins and tents for some 75,000 people. Shortage of water was still a major problem in the two cities.
In New York, U.N. Secretary-General Ban Ki-moon expressed concerned about the flooding, U.N. deputy spokesman Farhan Haq said.
"The United Nations and its partners stand ready to support the government in responding to this disaster," the deputy spokesman added.