Death of Australian man yanked into woodchipper being treated as suspicious, police say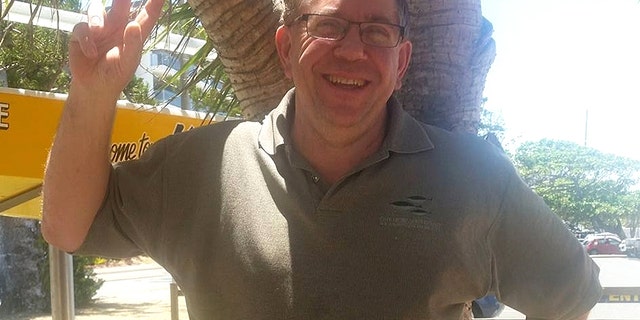 NEWYou can now listen to Fox News articles!
The death of an Australian butcher who was yanked into a woodchipper in November is now being treated as suspicious, police said.
Bruce Saunders, 54, was clearing tree branches near his family friend's home on Nov. 12 with two other friends when he was dragged into the industrial woodchipper and "died within a few seconds," Sky News reported.
The butcher's death was previously believed to be an accident but Queensland Police said "several items of interest" made them rethink that theory of the case.
AUSTRALIAN LAWMAKERS DEBATE BANNING SEX WITH STAFF MEMBERS
Inspector Gary Pettiford said he re-interviewed the two friends with Saunders at the time of the incident and reexamined items from the scene. Pettiford said there were other persons of interest they were also looking into. The two friends told investigators they did not see Saunders enter the industrial woodchipper.
"Information we received during the course of our coronial investigations has led us to believe that the death is suspicious and we have a number of detectives and police experts investigating this incident," Pettiford said.
Pettiford urged anyone with information on Saunders' death to come forward.
The New Zealand Herald reported a few people told police Saunders' death was not an accident, but it was unclear what other information they had.
An expert on the machine said the woodchipper appeared to be working properly at the time of the incident.
Pettiford said the machine was programmed in a way that would stop people from being dragged into the woodchipper.
AUSTRALIAN PREMIER TO APOLOGIZE TO SEX ABUSE VICTIMS
Pettiford did not immediately say if police were investigating a motive.
Inspector Paul Algie said at the time of the incident that it was a grisly scene.
"I went out there this morning to speak to officers from Brisbane and I'd have to say it's one of the worst incident scenes I've ever seen," Algie said. "It was actually quite horrific. His friends discovered him as he became entangled and attempted to extract him from the shredder and were unable to do so. So they're obviously quite traumatized now."
Saunders was described as a "happy person that took everything in stride."
"Last time I saw him, he was laughing and happy and even my staff said that he was such a happy-go-lucky person," Saunders' brother-in-law told the Daily Mail. "I will always remember his smile."