Deadly protests continue in southern Iran for a second day: 'Streets look war-torn'
Deadly protests in the southern Iranian city of Kazerun continued for a second day following the deaths of two protesters Wednesday. Protesters aimed their wrath at the Iranian regime following a decision to split the city of nearly 150,000 into two townships.
"After anti-riot forces were dispatched to the city from Shiraz, the people charged at them and hand-to-hand clashes ensued," a press release from the National Council of Resistance of Iran (NCRI) said. NCRI is a coalition of influential Iranian opposition groups.
The protests have left at least two people dead and six others injured.
The NCRI press release said that protesters had set fire to a trailer belonging to regime security forces and that four police vehicles had also been set ablaze. It said that parts of the city looked "war-torn." It said smoke had filled the air close to the main square following the burning of tires by protesters. It also noted the Internet and mobile phones have been cut off.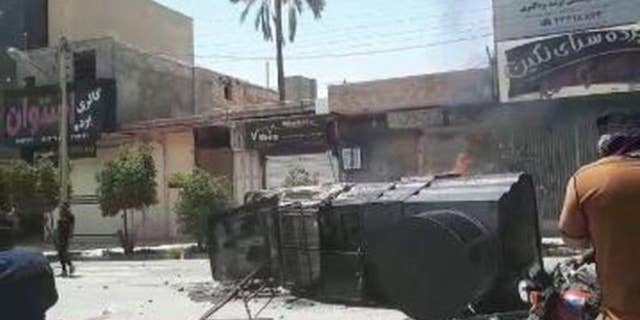 Heshmat Alavi an Iranian political and rights activist who has been following the protests since they started last December, told Fox News that "the scene we are witnessing in Kazerun is merely one of the many flashpoints in Iran, a powder keg state considered ready to explode at any moment."
Alavi said more protests have been occurring across the country.
"Reports from a variety of sources are indicating anti-regime rallies and protests throughout the country, staged by people from all walks of life," he said. "This includes teachers, college students, store-owners and bazaar merchants, credit firm clients seeking their stolen savings."
The foreign minister of the Netherlands, Stef Blok, who is on a short visit to the U.S. that includes a visit to the United Nations and meetings in Washington D.C. on Friday, told Fox News when asked about the deadly protests that he supports the right ,"To protest against any government," he said adding, "they should be free to do so and it should not be confronted by violence."
The Netherlands is a non-permanent member of the UN Security Council.
Farhan Haq, a spokesman for the United Nations Secretary General Antonio Guterres, told Fox News that the UN is aware of the reports but said they did not have any first-hand information from the city.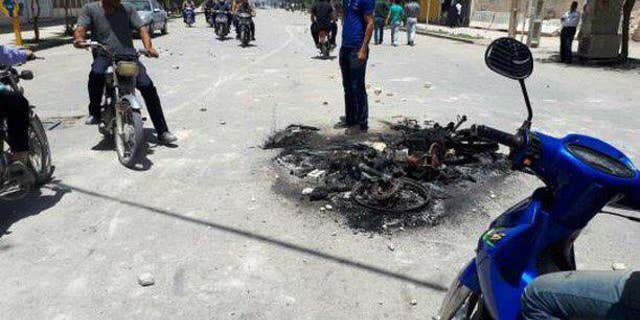 "We want to make sure that the rights of people to assemble and protest peacefully are respected by all, including the security forces," Haq said.
On Wednesday, many of the protesters gathered outside a police station in the city, according to an NCRI statement. The protesters reportedly vowed not to leave until those arrested were released.
"Beware of the day we get arms," they reportedly chanted.
Protests erupted in Iran on December 28 last year and gathered momentum across the country over regime corruption and a worsening economy that has led to high unemployment and a growing poverty rate.
Last week, during his speech on the Iran deal, President Trump made a direct pitch to the Iranian people where he said: "Most of Iran's 80 million citizens have sadly never known an Iran that prospered in peace with its neighbors and commanded the admiration of the world. But the future of Iran belongs to its people."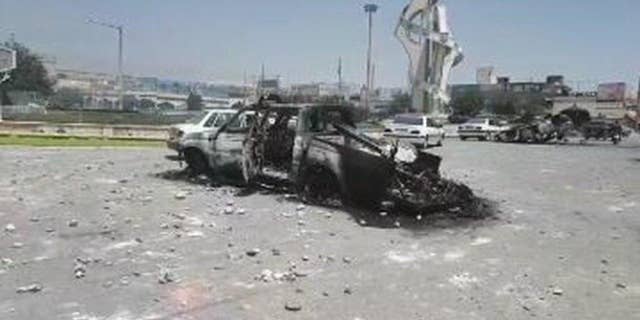 Heshmat Alavi, an Iranian political and rights activist said President Trump's tough policy makes a difference.
"Whenever the Iranian regime becomes the target of a firm policy, this plays into the interests of the Iranian people and revives a nearly four-decade dispute," he said. "(The) principle here is the fact that the Iranian people want regime change and are taking major steps towards this objective."