Dead Argentinian prosecutor Alberto Nisman feared for safety of his family and himself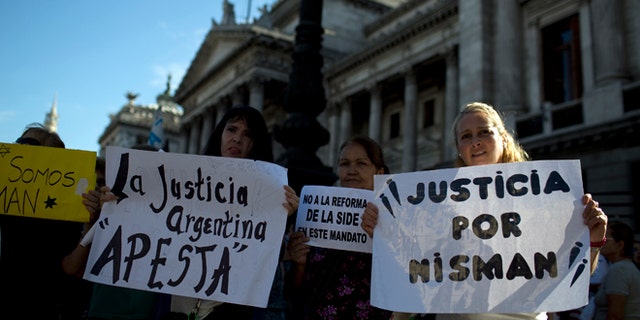 NEWYou can now listen to Fox News articles!
BUENOS AIRES, Argentina (AP) – A prosecutor whose mysterious death has rocked Argentina's government confided to an opposition congresswoman that he believed his case against President Cristina Fernández was going to cost him his position, the lawmaker said Friday.
Alberto Nisman was found shot dead in his bathroom on Jan. 18. The discovery came shortly before he was to appear in Congress to detail his allegations that Fernández helped Iran cover up the 1994 bombing of a Jewish community center, which killed 85. Fernández and Iran deny the accusations.
Congresswoman Laura Alonso said Nisman spoke to her privately on Jan. 14. She said he feared for his safety and for his daughters, confirming what several other friends and colleagues of Nisman have said.
Alonso said that three days before Nisman died, he had sent her a text message saying, "I'm going with everything," a reference to the case he was going to present to lawmakers.
She said Nisman told her: "The government knows that I'm bringing this investigation forward."
Alonso said that even though Nisman felt threatened, he was committed to his investigation and rejected the possibility that he killed himself.
Investigators initially said it appeared Nisman committed suicide, then later said they also were investigating the possibility of a homicide.
Alonso said in another text message sent on Jan. 6, Nisman wrote from London to say he was cutting short a vacation to return to Argentina. Several days later, he publicly accused Fernández of the cover up, speaking to several media outlets.
Investigators, however, have rejected the idea that Nisman altered travel plans, noting he returned on Jan. 12 in keeping with his original plane ticket.
Conspiracy theories swirl around Nisman's death and the 1994 bombing, which has never been solved. Over the last few weeks, thousands of Argentines have taken to the streets for protests and vigils demanding justice.