DEA: Narco-drones not major smuggling concern, but could help set up attacks on agents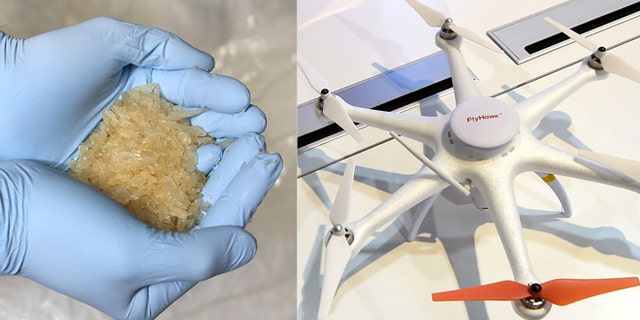 When Mexican authorities discovered a small, unmanned drone carrying about six pounds of methamphetamine that had crashed about two miles from the U.S. border, it raised a lot of concerns among observers of the drug trade that this new technology will make it more difficult to hunt down narco-traffickers and easier for smugglers to get their illicit products into the United States.
In the aftermath of the discovery, however, agents at the Drug Enforcement Administration have downplayed the use of drones by drug smugglers – citing the relatively small size of methamphetamine or other drugs they would be able to carry and the reliability of more tried-and-tested routes already in use by groups like the Sinaloa Cartel to bring larger quantities of numerous substances across the border.
"We're not greatly concerned that this will become a huge issue," Matt Barden, a special agent with the DEA in Washington, D.C., told Fox News Latino. "The big reason is it is almost fruitless."
According to the 2014 National Dug Threat Assessment compiled by the DEA, almost 26,000 pounds of methamphetamine were seized in 2013 along the U.S.-Mexico southwest border, with the DEA and Customs and Border Protection regularly detecting shipments of the drug that weigh over 50 pounds. In the same period of time, federal agents seized 10,496 pounds of heroin – another substance that experts say could be flown on a drone across the border – with 4,841 pounds being found along the U.S. southwest border alone.
'I can't believe they're not doing this more," Adam Isacson, a senior associate for regional security policy at the Washington Office on Latin America told FNL. "Heroin, ecstasy and meth are all substances that can be profitable when smuggled in small amounts."
Given that the drone that crashed was only carrying six pounds – worth up to $100,000 in some parts of the country – the DEA's Barden, however, said law enforcement agents are more interested in hunting down larger shipments.
"They're innovative," he said. "But we're not greatly concerned because it's still not one of the smugglers' ideas that have hit the radar."
Even so, some observers of Mexico's criminal networks see this as a way for cartels to move lighter drugs – methamphetamine, MDMA and heroin, for instance – across less well-patrolled regions of the border without being detected by local authorities. The crashed drone was found close to the San Ysidro border crossing in the heavily populated city of Tijuana, more remote locations that have little foot traffic and are only occasionally patrolled are where drone trafficking could flourish.
"Authorities will be able to step-up enforcement in urban areas, but go out to the Tucson desert or to Big Bend National Park in Texas, and you can make shipments all day without anyone noticing," Isacson said.
The U.S. government currently uses its own, highly-sophisticated drones to patrol the country's southern border for drug smugglers and undocumented migrants. CBP currently has eight Predator drones it operates along the northern and southern borders with two additional drones patrolling the Caribbean.
The worry for many in federal law enforcement is that smugglers – whether drug or human – will use their own drones to keep tabs on border agents and other law enforcement officers, allowing them to evade detection or, worse, set up attacks on federal agents.
During fiscal year 2014, which ended on Sept. 30, the CBP registered 373 attacks on Border Patrol agents, most of them on the U.S.-Mexico border. The Tucson sector accounted for the largest number of assaults, with 99 incidents, followed by the Rio Grande Valley in Texas, with 89.
"Surveillance is more of a concern ours than drug trafficking," Barden said of the drones. "Especially in regards to the safety of all our law enforcement officers."