DEA agent: Venezuela's 'narco nephews' used presidential runway to traffic drugs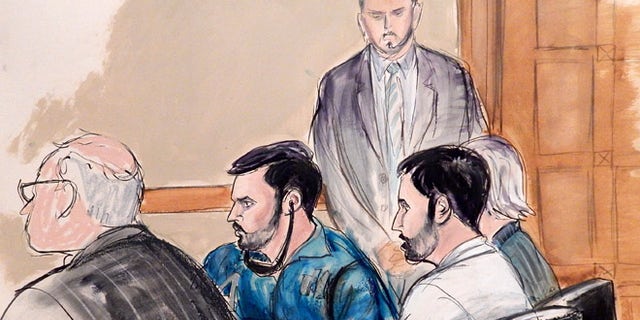 NEWYou can now listen to Fox News articles!
The Venezuelan government is protective of major drug dealers in the country and possibly complicit in the trafficking of illegal substances into the United States, a Drug Enforcement Administration official argued in court Thursday.
DEA agent Sandalio Gonzalez testified in Manhattan federal court that Venezuela President Nicolas Maduros' nephews bragged about using the presidential ramp at a major airport to board drug-laden planes. Gonzalez also said that the inspector general of Venezuela's investigative police, CIPCP, and the nephew's uncle, Bladimir Flores, had a role in flying the planes to Honduras.
The two nephews of Venezuela's powerful first lady, Cilia Flores, Efrain Campo and Francisco Flores, are facing drug trafficking charges in the U.S. But the case has expanded to determine how involved the Venezuelan government is in the country's burgeoning drug trade.
When the United States began investigating the nephews, Gonzalez testified, it did not alert Venezuela because that country's authorities had targeted DEA informants in the past.
The agent said U.S. investigators conducting unrelated drug probes in Venezuela heard that the nephews of Venezuela's president "were actively involved in drug dealing" and were conspiring to import 1,800 pounds of cocaine into the United States.
An effort to capture them last fall came after an important tip from a major drug trafficking informant, Gonzalez said.
"At the beginning of October, he indicated that a Venezuelan official by the name of Bladimir Flores was going to send his nephews to Honduras to meet with CW-1," the designation the DEA had given the cooperating drug dealer.
The agent said the informant "indicated that these individuals wanted to fly drug-laden planes to Honduras with flight plans." The nephews were arrested in Haiti in December and brought to New York for trial.
Gonzalez said the nephews were not small-time drug traffickers, considering that they could arrange shipments of cocaine as big as 1,600 kilograms, travel in private planes and promise easy access to a major airport.
"They indicated they had the run of the main airport in Caracas and could easily dispatch drug-laden planes on the presidential runway," Gonzalez said.
An email request for comment from Venezuela's Communications Ministry and Foreign Ministry was not immediately returned Thursday.
Randall Jackson and David Rody, defense lawyers for the nephews, put Gonzalez on the defensive, forcing him to reveal that two confidential sources gathering evidence and meeting with the nephews before their arrest were lying to Gonzalez and dealing drugs themselves throughout the probe.
Gonzalez admitted that one of the sources counted on making enough money from the DEA to buy a house and had described spending money on prostitutes in Caracas.
The agent also conceded that the man had expressed a desire to have sex with Venezuela's first lady, had used foul language and had made a racist comment about the Haitian people.
At that point, U.S. District Judge Paul Crotty interrupted, asking if drug dealers cooperating with investigators had to be politically correct.
"Have the thought police invaded criminal investigations?" Crotty asked.
"Not at all, your honor," Jackson replied.
Jackson also asked Gonzalez about some explicit thoughts his informant had toward the Venezuelan first lady.
"Do you recall [the source] saying that he would like to f–k the First Lady of Venezuela?" Jackson said, according to the New York Post.
"Yes," Gonzalez said.
The U.S has been steadily stepping up pressure on high-ranking members of Venezuela's military, police and government officials for their role in making the country an important transit zone for narcotics. Several Venezuelan officials, including a former defense minister and head of military intelligence, have been indicted or sanctioned in the U.S., and many more are under investigation.
The Associated Press contributed to this report.