David Petraeus: Paula Broadwell, Jill Kelley, the Story Behind the Women Who Brought Down CIA Head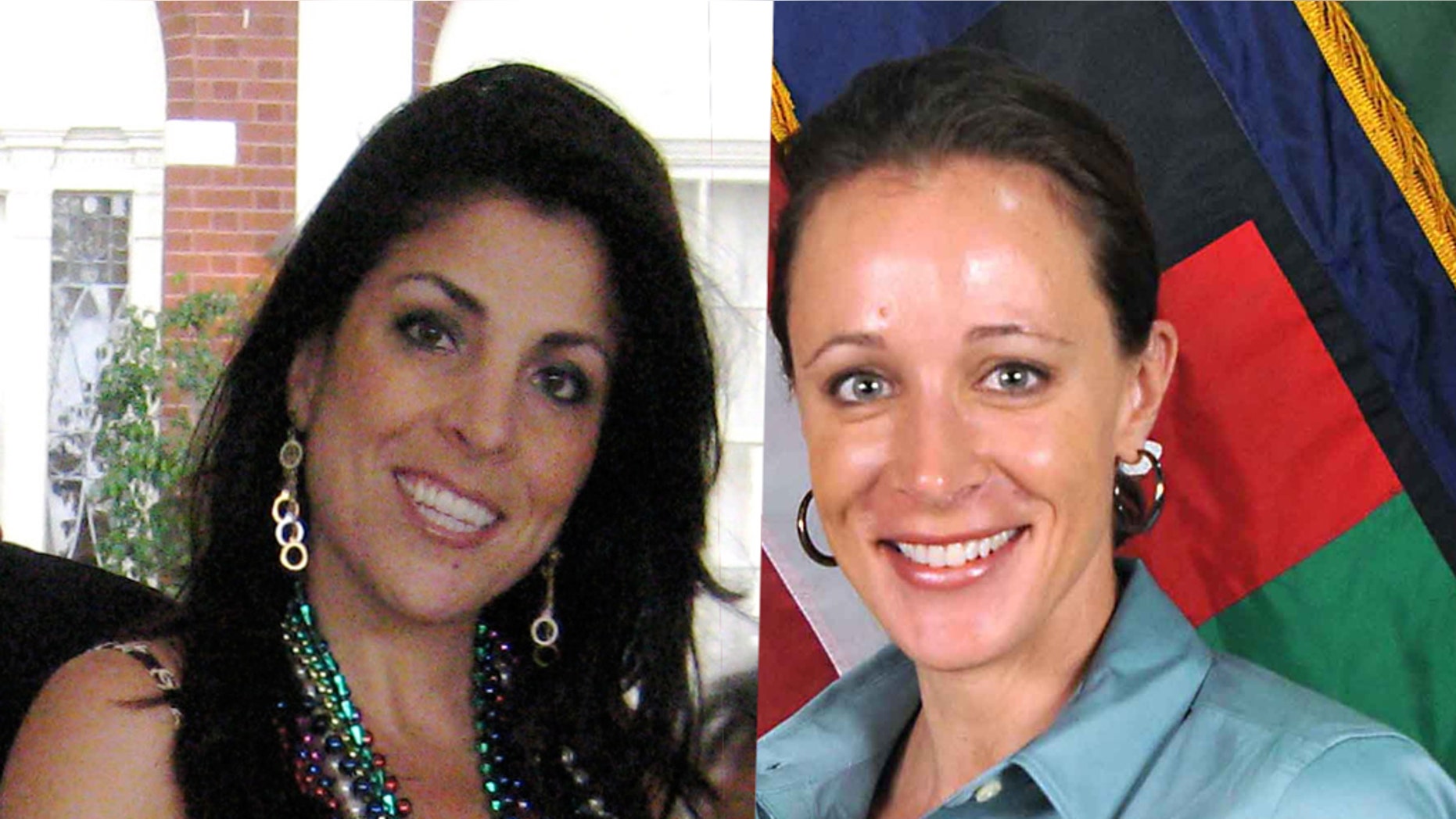 They are both young, married, beautiful and have deep ties to the military. They are both also doting moms with impressive careers.
But their ties to ex-CIA director David Petraeus has put Paula Broadwell and Jill Kelley in the glaring spotlight. Broadwell, who was reportedly having an affair with Petraeus, saw Kelley as a romantic competitor – and that rivalry shattered three families, torpedoed the Petraeus' career and has forced two women and their families into hiding.
Even though they are nowhere to be found, details are beginning to emerge of the two women who seem to be captivating the world's attention.
A close Petraeus associate says FBI investigators told Petraeus that Broadwell sent anonymous emails to Jill Kelley, a Petraeus family friend from his time at Central Command in Tampa, warning her to stay away from him. The Petraeus associate spoke on condition of anonymity. The CIA director resigned last week after confessing to the affair.
Petraeus was not shown the emails, but was told the tone and content seemed threatening to Kelley, prompting her to report them, the close Petraeus associate said. That triggered the investigation that led the FBI to Broadwell and evidence of her affair with Petraeus.
Broadwell first met fellow West Point graduate David Petraeus in the spring of 2006, when she was a graduate student at Harvard's Kennedy School of Government.
He was a lieutenant general working on a counterinsurgency manual that would be tested during his command in Iraq. The university had invited him to give a speech.
Broadwell was in the Army Reserve after being recalled three times to active duty since the Sept. 11 attacks to work on counterterrorism issues. She intended to return to active duty or get into the policy world, according to the preface of the Petraeus biography she would later write with a Washington Post editor.
Petraeus, who held much-praised military commands in Iraq and Afghanistan, resigned Friday after admitting he had an extramarital affair, a disclosure that ended the retired four-star general's civilian career as director of the CIA.
He carried on the affair with Broadwell, now 40, according to several U.S. officials with knowledge of the situation. The officials spoke anonymously because they were not authorized to discuss publicly the investigation that led to the resignation. The FBI discovered the relationship by monitoring Petraeus' emails, after investigators were alerted that Broadwell may have had access to his personal email account, two of the officials said.
Broadwell wrote in the preface to "All In: The Education of General David Petraeus," published by Penguin in January, that while at Harvard, Petraeus passed along his card and offered to help her academic work on leadership. The book's ranking on Amazon.com jumped from 76,792 on Friday to 111 by midday Saturday.
"I later discovered that he was famous for this type of mentoring and networking, especially with aspiring soldier-scholars," Broadwell wrote, adding that "I took full advantage of his open-door policy to seek insight and share perspectives."
Broadwell is a research associate at Harvard's Center for Public Leadership and a Ph.D. candidate in the Department of War Studies at King's College London, according to her biography on Penguin's website. According to The Bismarck (N.D.) Tribune, she grew up in North Dakota and moved to Charlotte, N.C., more than three years ago with her husband, a radiologist, and their two young sons.
The book began as research for her dissertation, a case study of Petraeus' leadership. It evolved into an authorized biography written with Washington Post editor Vernon Loeb after President Barack Obama put Petraeus in charge of Afghanistan in 2010.
Two years earlier, she wrote in the book's preface, while visiting Washington he had invited her to join him and his team for a run along the Potomac River.
"I'd earned varsity letters in cross-country and indoor and outdoor track and finished at the top of my class for athletics at West Point; I wanted to see if he could keep stride during an interview. Instead it became a test for me," she wrote. He eventually increased the pace "until the talk turned to heavy breathing, and we reached a 6-minute-per-mile pace. It was a signature Petraeus move. I think I passed the test, but I didn't bother to transcribe the interview."
In the Army Reserve, she specialized in military intelligence, spending time at the U.S. Special Operations Command and the FBI Counterterrorism Task Forces before pursuing an academic career, according to her Penguin bio. She "lived, worked, or traveled in more than 60 countries during more than 15 years of military service and work in geopolitical analysis and counterterrorism and counterinsurgency operations," her bio states.
Broadwell made multiple trips to Afghanistan, with unprecedented access to Petraeus, and also spent time with his commanders across the country.
When Petraeus left the military and took the job at the CIA, Broadwell kept in contact with him and sometimes was invited to his office for events such as his meeting with actress Angelina Jolie.
"History has yet to fully judge Petraeus' service in Iraq and Afghanistan, his impact on the U.S. military and his rank among America's wartime leaders," Broadwell wrote in the preface. "But there is no denying that he achieved a great deal during his 37-year Army career, not the least of which was regaining the strategic initiative in both wars" after Sept. 11, 2001.
"His critics fault him for ambition and self-promotion. I will note in the pages that follow that he is driven and goal-oriented, but his energy, optimism and will to win stand out more for me than the qualities seized on by his critics."
In an interview with The Bismarck Tribune shortly after the biography was published, Broadwell said Petraeus was a motivational force not only for organizations but individuals as well.
"He inspires people of all ages to improve themselves. On that note, I would conclude that his sheer energy whether applied to soldiering, scholarly pursuits, public outreach or mentoring can be equally empowering for an organization or an individual subordinate," Broadwell said.
Petraeus' relationship with Kelley, the "second woman" involved in the scandal, is more unclear. But she has been identified as living in Tampa, Fla., and serving as an unpaid social liaison to MacDill Air Force Base in Tampa, where the military's Central Command and Special Operations Command are located.
Staffers for Petraeus said Kelley and her husband were regular guests at events he held at Central Command headquarters.
In a statement Sunday evening, Kelley and her husband, Scott, said: "We and our family have been friends with Gen. Petraeus and his family for over five years. We respect his and his family's privacy and want the same for us and our three children."
A U.S. official said the coalition countries represented at Central Command gave Kelley an appreciation certificate on which she was referred to as an "honorary ambassador" to the coalition, but she has no official status and is not employed by the U.S. government.
The official, speaking on condition of anonymity because he wasn't authorized to discuss the case publicly, said Kelley is known to drop the "honorary" part and refer to herself as an ambassador.
A former associate of Petraeus insists Kelley and the ex-CIA chief were not having an affair. The associate, who has been in touch with Petraeus since his resignation and requested anonymity, says Kelley and her husband were longtime friends of Petraeus and wife, Holly.
Attempts to reach Kelley were not immediately successful. Broadwell did not return phone calls or emails.
Based on reporting by The Associated Press.
Follow us on twitter.com/foxnewslatino
Like us at facebook.com/foxnewslatino