D.C. Leadership Program Inspires High School Latinos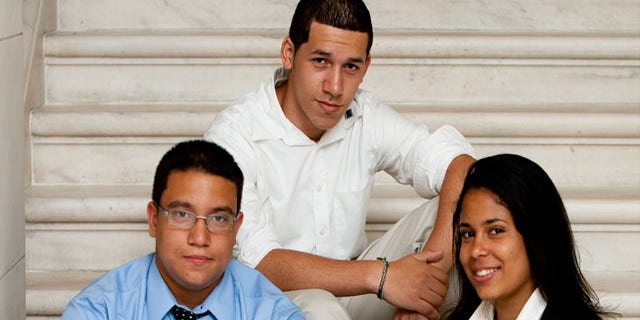 For the first time in its history, the Congressional Hispanic Caucus Institute (CHCI) launched the High School Latino Leaders in D.C. Program (HSLLDC).
It welcomed 20 high school students from across the country to tour the capital. The students participated in seminars and workshops that taught them about the federal government, introduced them to political leaders and influenced them to make positive changes in their communities.
The pilot program is an extension of the one-day Ready to Lead (R2L) college prep initiative. R2L is held in nine cities across the country throughout the year, and has featured prominent and famous spokespersons such as Wilmer Valderama.
The program's goal is to motivate high school students to attend college and train them in college planning, financing college cost and leadership development.
The hope behind programs like R2L and HSLLDC is to nurture a broader sense of possibilities in minorities who may be limited in their knowledge of what the world has to offer in various job sectors. The view of those in leadership positions with the programs is that the kids involved will reach their potential and strength as leaders, and help build a better future for everyone.
"To have these kids gain and leave with confidence so they can share that and pass it on," Director of Public Relations and Media, Scott Gunderson Rosa said. "It's a powerful effect that can motivate kids to stay in school and perhaps create a pipeline in a public sector where we (Latinos) are underrepresented."
Pamela Cervera, High School Program Specialist, said HSLLDC sought to target 9th and 10th grade students of Latino background for their program.
Rosa added that R2L students were invited to apply for the new initiative first.
They "had to write an essay, get a letter of recommendation but, most importantly, tell us what they are doing in their community," he said, to "show us they have initiative because this program is about building leaders and enforcing and instilling the spirit of giving back."
The week-long program offered the students the chance to visit Capitol Hill, hold mock congress debates and a "quick DC experience."
The main goal of the HSLLDC is to "give these kids leadership training and teach them the importance of leadership and also to expose Latinos to a place they would never get to see [from] where they live, they can experience what Washington is about and have an ability to get involved," Rosa said.
Julian Rodriguez, a participant in HSLLDC, agreed.
"I would have never seen this where I'm from and just the experience of being here has inspired me," Rodriguez said.
What HSLLDC also offers is an inspirational message.
HSLLDC teaches kids the power of leadership and the power they possess as citizens.
"Talking to the congressmen and being here taught me the importance of civic engagement," said participant Kathya Marte from the Bronx. "It has inspired me to speak up in my community and to speak up for what I believe in, it's inspired me to participate more in my community and if I seek change it'll happen."
Rosa said these programs -- which were made possible this year due to extra funding from State Farm and the Close Up Foundation -- cause a ripple effect and instill the importance of staying in school and believing in yourself .
Participant Mathew Mercado, who is also from the Bronx, said: "Visiting Capitol Hill…and seeing how hard-working they are, it's inspired me to look more into this field and to be better."
For more information on how to get involved in one of the many Leadership programs specifically for Latinos go to the Congressional Hispanic Caucus Institute website.
Follow us on twitter.com/foxnewslatino
Like us at facebook.com/foxnewslatino