Czech leaders meet president on political crisis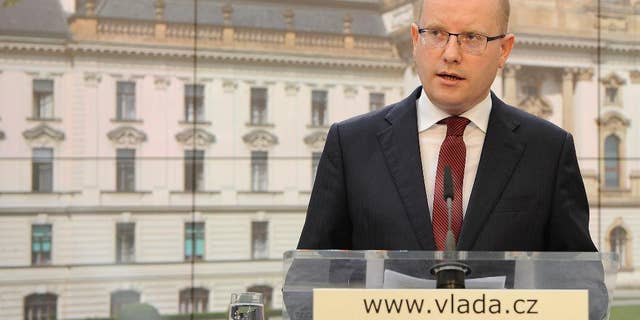 PRAGUE – Czech leaders met with President Milos Zeman on Wednesday in efforts to resolve a political crisis triggered by the prime minister's decision to resign with his government over the business dealings of the finance minister.
Prime Minister Bohuslav Sobotka announced the resignation on Tuesday, saying the minister, billionaire businessman Andrej Babis, had not allayed suspicions that he avoided paying taxes.
Babis denied any wrongdoing.
Sobotka was planning to formally submit the resignation to Zeman on Thursday.
His surprise move reflects tensions in the three-party ruling coalition less than six months before the next scheduled parliamentary election.
Babis is a rival of Sobotka's leftist Social Democrats and heads the ANO centrist movement that is a favorite to win October's parliamentary elections.
After meeting Zeman on Wednesday, Babis said still didn't understand the prime minister's decision.
He said he told the president "I can't see any reason why the government should resign. We think the government has been successful."
Zeman has the power to select a new premier.
Babis said he understood Zeman would accept the resignation, even though he could reject it. He said he expected Zeman to select a member of Sobotka's party that won the 2013 general elections to lead the government.
Zeman also met Sobotka's deputy, Interior Minister Milan Chovanec on Wednesday and will talk to Pavel Belobradek, chairman of the Christian Democrats, the third coalition party, on Thursday.
Another option would be to hold early elections, but that might be difficult due to a lack of time.