Cyprus court gets request to extradite man who admitted to hijacking EgyptAir plane in March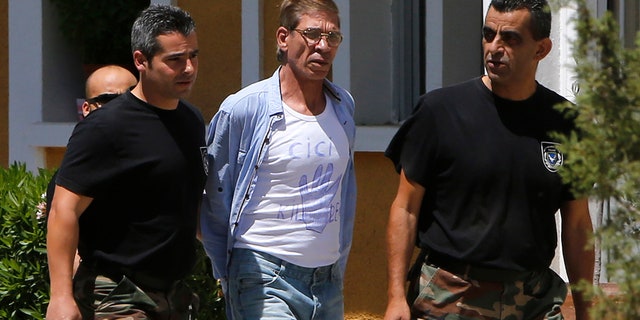 NEWYou can now listen to Fox News articles!
NICOSIA, Cyprus – Cypriot prosecutors on Friday submitted to court the justice minister's formal request to extradite to Egypt a man who admitted to hijacking an EgyptAir passenger jet with a fake suicide belt in March and diverting it to Cyprus.
The court adjourned proceedings in the case of Seif Eddin Mustafa, 59, until May 26 after defense lawyer Robertos Brahimis asked to see a declaration his client handed authorities during the hijacking, which ended peacefully after all 72 passengers and crew aboard the A320 jet were released.
Cypriot authorities said Mustafa had insisted during the six-hour hijacking that a letter be delivered to his Cypriot ex-wife in which he demanded the release of 63 dissident women imprisoned in Egypt.
Brahimis said that he intends to use the declaration — as well as Mustafa's initial statement to police after his arrest — to show that his client's political beliefs may put him at risk of not receiving a fair trial or possibly facing torture or death at the hands of Egyptian authorities if he's extradited.
Brahimis also said Mustafa felt his rights of freedom of expression were breached when police manhandled him before Friday's court appearance and forced him to remove a T-shirt that read, 'Victory for January 25, 2011, No to the army 30 July 2013."
The statement refers to the popular uprising against Egypt's former president Hosni Mubarak and the army's overthrow of Mubarak's successor, Mohammed Morsi.
Judge Dona Constantinou said the courtroom is no place to express political opinions and defendants must be "appropriately attired."
Meanwhile, the head of migrant support group Kisa said it has filed an appeal against a Cyprus Asylum Service decision to dismiss Mustafa's asylum claim because he had committed the hijacking.
Doros Polycarpou said that in its decision, the service acknowledged that Mustafa's fear of persecution by Egyptian authorities because of his political beliefs was justified.