Cypriots cast blame as meltdown probe begins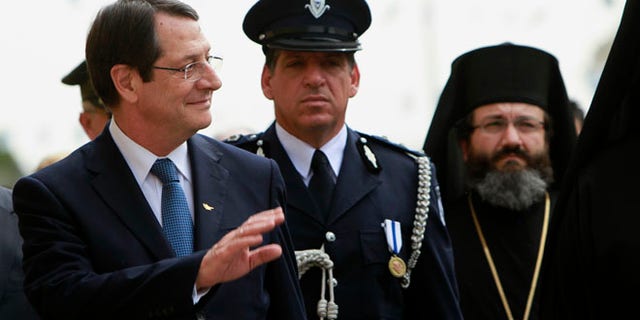 NEWYou can now listen to Fox News articles!
Finger-pointing over who is to blame for Cyprus's crisis—and who may have had early notice of the looming meltdown—is gripping the island as it digs through the financial wreckage.
Newly elected President Nicos Anastasiades pledged on Monday to investigate his own family after allegations in Cypriot and Greek media that a company partly owned by an in-law had yanked millions of euros out of the country days before the crisis began.
Figures ranging from the country's top church leader to lawmakers to the island's media have joined the fray, some alleging outright wrongdoing by Cyprus's tightly knit elite, others simply adding their voices to the chorus of those demanding the finance minister and central-bank governor step down.
Also Monday, a prominent banker in Greece, seen by many in Cyprus as one of the people at the center of the crisis, defended himself against charges that he had wiped out personal and business debts and approved loans held by the island's political and financial leaders in order to curry favor. The banker, Andreas Vgenopoulos, denied making any such loans and called for Cypriot authorities to release reports on Cyprus Popular Bank PCL, which he formerly headed, and to make public confidential details he had disclosed to them about his personal financial transactions.
Last week, Cyprus imposed capital controls—becoming the first euro-zone country to do so—to stem a feared outflow of deposits as it began an overhaul of its banking sector in order to clinch a €10 billion ($12.8 billion) bailout from its euro-zone peers and the International Monetary Fund.
Since then, the country has closed its second-biggest lender, Cyprus Popular Bank, and is moving that bank's healthy assets to Bank of Cyprus PCL, the biggest bank, which is undergoing its own restructuring.
Big depositors at the two banks face losses of anywhere from 40% to 80% on their deposits, according to government estimates.
The latest allegations follow indications from euro-zone officials that money was leaking out of the country in the days after Cyprus agreed to an initial bailout March 16—a plan that would have included a controversial bank-deposit levy, later rejected by the country's parliament. Although the Cyprus central bank blocked most fund transfers out of the country following that initial deal, senior euro-zone officials have raised suspicions that several hundred million euros left the country through loopholes, in violation of the ban.
The fresh allegations, published in Greek and Cypriot media over the weekend, focus on the days before the financial crisis erupted.