'Cuban Five' Down To Three: Intelligence Agent Jailed In Arizona To Be Released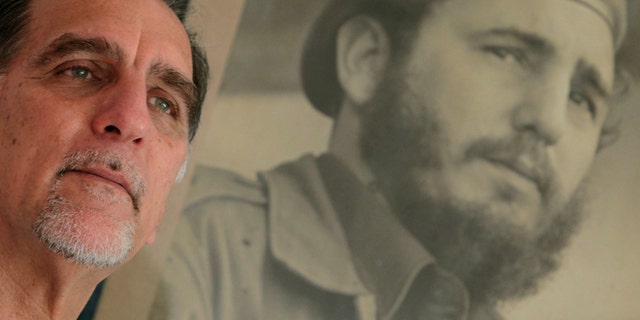 HAVANA (AP) – When Fernando González walks out of an Arizona prison next week, the "Cuban Five" will be down to three.
Intelligence agents in the employ of Fidel Castro's Cuba, they were arrested in the United States in 1998 and given terms ranging from 15 years to consecutive life sentences on charges including conspiracy and failure to register as foreign agents. A federal appeals court upheld their convictions but voided three of their sentences, including González's, after finding they had gathered no "top secret" information.
Rene González, no relation, was the first of the Cuban Five to go free in 2011. He was ordered to remain in the United States for more than a year after release. But U.S. officials say Fernando González will be immediately handed to immigration authorities upon his release for the start of deportation proceedings.
In an interview with The Associated Press, René González said he hopes his comrade will soon join him in his new role as the public face of Cuba's campaign to demand the other agents' release.
"I don't know how he will feel when he comes. Probably he'll need some rest, but I hope to see him at my side in this battle," González said on a recent morning in Havana, clad in a smart striped shirt and black pants. "I think he will be a good reinforcement."
Rene González was an unknown young pilot in 1990 when he pretended to steal a crop duster and flew to Florida, using cover as a Cuban defector to spy on targets in the United States.
Rene and Fernando González, along with the others, were convicted in 2001 of being part of a ring known as the "Wasp Network," given the job by Cuba's government of spying on U.S. military installations in South Florida, Cuban exile groups and politicians opposed to Castro's government.
Havana maintains the agents posed no threat to U.S. sovereignty and were only monitoring militant exiles to prevent terror attacks in Cuba, the best known of which was a series of bombings of Havana hotels that killed an Italian tourist in 1997.
In 2013, Rene González finally returned to his country of allegiance, if not birth, when a U.S. judge allowed him to renounce his American citizenship and cut short three years' supervised release.
He is no longer just an anonymous husband and father of two. His and the other agents' faces grace billboards across Cuba, where they are lionized as heroes for their clandestine monitoring of militant anti-Castro exiles.
"Now everyone recognizes me in the street," González said.
He has spent the last nine months or so living a relatively quiet existence, readjusting to family life with his wife, Olga Salanueva, and their teenage daughter, Ivette, in a small apartment in central Havana. Their other daughter, Irma, has grown up, married and has a child of her own.
But at a Latin American and Caribbean regional summit last month, González was firmly in the spotlight talking to visiting foreign media and arguing Cuba's case to "free the Five."
Despite being locked up during the years when the Internet came of age, he opened a Twitter account this month that he uses mostly to talk up the campaign in both English and Spanish. On Valentine's Day he tweeted a photo of him and his wife grinning broadly: "And (hashtag)love overcame hatred. They will never destroy the capacity for love of the 5."
"I'm a neophyte at this," González told the AP.
He was born in 1956 in Chicago to Cuban emigres who were sympathetic to Fidel Castro's 1959 revolution and returned to the island in the 1960s. In the decades that followed, Soviet aid allowed Cuba to subsidize food, services, education and health care.
But the island's socialist economy went into a tailspin that lasted for years with the collapse of the Soviet Union.
Today, the orthodox Marxist Cuba that González left has undergone significant change, even if the Communist Party is the only one allowed and there's still little tolerance for open dissent.
Fidel Castro, 87, is retired and largely out of the public eye. Younger brother Raúl Castro has embarked on a plan to remake the country's model by permitting some private economic activity, though key sectors remain firmly in the hands of the state.
"It's a different country, but it's also a different world," González said. "We have had to make concessions to the market that I don't like, above all in conditions that create certain inequalities among people that make the most vulnerable live in a precarious state we didn't know before."
Still, "I think it's an interesting process," he said.
One thing that remains the same is the frosty relationship between Havana and Washington. In addition to the Cuban agents still behind bars, a major sticking point is Cuba's imprisonment of a U.S. government development subcontractor.
Alan Gross is serving a 15-year sentence for crimes against the state after he was caught bringing sensitive communications equipment into the country.
González said he would be happy to meet Gross' wife, Judy, the next time she comes to see husband behind bars.
"If she visits me I would receive her amiably," he said.
González even has some good memories of the United States, though he takes a dim view of its political system and of those in Florida's Cuban exile community who call him a traitor and a spy.
"I like the people, the people in Miami, with the exception of that segment that has poisoned the politics of the city," González said. "The regular people are kind. In Miami I enjoyed the Latin American cultural diversity, and I miss that, too."
Follow us on twitter.com/foxnewslatino
Like us at facebook.com/foxnewslatino