Cuba emerges as committed ally against Ebola - yet can't treat illnesses at home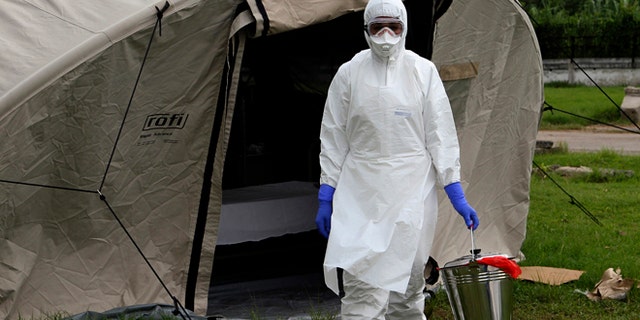 NEWYou can now listen to Fox News articles!
Cuba is a nation of just over 11 million people that has been in economic dire straits since the collapse of the Soviet Union in the early 1990s and has had a combative relationship with its neighbor to the north, the United States, for much longer than that.
Yet the socialist state has emerged as one of the most committed providers of medical supplies and healthcare workers to the Ebola-stricken nations in West Africa.
About 165 Cuban health workers arrived last Thursday in Sierra Leone – the largest medical contingent from any nation, according to the World Health Organization (WHO) – to fight Ebola and 296 other doctors and nurses are currently being trained in Cuba before shipping out to Liberia and Guinea where the deadly virus is also spreading. On Tuesday, Cuba's intensive care specialist Leonardo Fernández headed to Guinea and Liberia along with 90 other Cuban medical workers as part of the country's half-century-old strategy that puts doctors on the forefront of the Cuba's foreign policy.
The commitment from the government of Raúl Castro has led to widespread praise from across the international community – including the United States – but also to allegations that the regime is sending doctors to West Africa for less than altruistic reasons along with neglecting its own populace in the meantime.
"They've been doing this kind of medical diplomacy for years because this is really all they've got besides rum and cigars," Ricardo Herrero, the executive director of the Miami-based advocacy group #CubaNow told Fox News Latino. "They've got plenty of work to do with their image on the world stage but they've got some good PR from this."
Cuba's Ebola effort has been called "robust" and "impressive" by media outlets such as the New York Times and the Washington Post, while WHO praised the effort and encouraged more countries to follow in Cuba's footsteps.
"Those of us who have been working on the response efforts at WHO know how truly valuable this offer is," Bruce Aylward, assistant director at WHO said of Cuba's doctors heading to West Africa in a press statement. "Many countries have offered money but no other country has offered such a large number of workers to go in and help do the most difficult jobs in this crisis."
The United States and Western European powers have so far donated vast sums of money - $258 million from the U.S. alone – but despite the U.S. sending some Marines to Liberia to battle the virus, no country has committed as many boots on the ground as Cuba.
Some experts see the silver lining of the Ebola crisis being the opportunity for the U.S. and Cuba to jointly work on combating the virus and possibly repairing some of the strained relations on the side. Former leader Fidel Castro said in an article published Saturday that Cuba was ready to work with the U.S. and Secretary of State John Kerry mentioned Cuba on Friday as a country stepping up on the frontlines.
"We've seen mutual cooperation before between the U.S. and Cuba," Herrero said. "To us, however, eradicating Ebola is the mother of common concerns."
Besides the philanthropic gesture to send medical workers to West Africa, some observers say that Cuba's efforts against Ebola is a way to put on a good face toward sympathetic U.S. politicians as Cuba's economy – and those of some of its close allies – continues on a downward spiral.
World Bank statistics put Cuba's gross domestic product at about $68.2 billion in 2011 – only a little better than Azerbaijan $65.9 billion – and its per capita GDP is $6,051 compared to the U.S.'s $49,855. When Hugo Chávez took power in Venezuela, Cuba found a wealthy ally to supply cheap oil in exchange for doctors, but as the government in Caracas suffers through its own economic doldrums they have signaled that the inexpensive shipments of oil could soon slow…if not stop altogether.
"There has been a lot of talk about Cuba being concerned about Venezuela having to cut off the amount of oil its ships to them," Susan Kaufman Purcell, the director of the University of Miami's Center for Hemispheric Policy, told Fox News Latino. "This is part of an effort on the part of Cuba to look good in the eyes of the U.S. and get support of U.S. politicians who could help lift the embargo."
The U.S. has had a commercial, economic, and financial embargo against Cuba since 1962 and while there has been a loosening in years, Cuba – and the vast majority of countries in the United Nations – has lobbied for it to be lifted.
While Cuba's motives in Africa have been ubiquitously praised, some experts worry that Cuba's historical focus on using its doctors on so-called "soft power" missions is hurting its population on the island.
For decades, Cuba has been praised for its free, universal healthcare and medical advances that has brought its life expectancy rate on par with the U.S., made its infant mortality rate the lowest in the hemisphere and eradicated measles on the island.
The crumbling economic situation, however, has shown cracks in the country's aging system and revealed poorly stocked pharmacies, hospitals that require patients to bring their own sheets and only about 10 percent of the island having access to clean drinking water. The U.S. embargo hasn't helped either as it makes replacing parts for more technologically advanced equipment such as mammograms and cancer therapy hard to replace.
"The foreign policy concerns of the country have always outweighed the ability of the country to deal with its own population," Kaufman Purcell told FNL. "Now they really can't afford to do this."
And despite the training the doctors in Cuba are receiving before heading to Liberia, Guinea and Sierra Leone, observers say that the nation itself is ill fit to deal with the virus if it comes to Cuba – making the country hope that the goodwill they have now will pay off.
"If there is Ebola exposure that reaches them," Kaufman Purcell said, "they're woefully unprepared to deal with it."