Croatia closes border to refugees after nearly 17,000 enter in 2 days
Croatia sent 19 busloads of migrants to Hungary Friday after Croatia's prime minister said it could not cope with the recent influx, but Hungarian police met the buses at the border and initially refused to let them in, as Europe's refugee crisis continues to leave thousands unsettled and strain diplomatic relations.
Reporters on both sides of the Croatian-Hungarian border watching the standoff Friday said 19 buses carrying migrants across to Beremend, Hungary were met by Hungarian police and soldiers on two humvees mounted with machine guns. At first the Hungarians said they would not let the refugees into the country, but later they were put on Hungarian buses.
It was not clear where they were headed next. Those asking for asylum will have their requests decided quickly, per a new law this week, while the rest could be sent back to Croatia.
Croatia closed all its border crossings with Serbia Friday in an effort to halt the flow of refugees seeking a way to Western, Central, and Northern Europe. None of the Balkan countries are willing or prepared to handle the crisis and have been trying to close off their borders, pushing the problem onto their neighbors.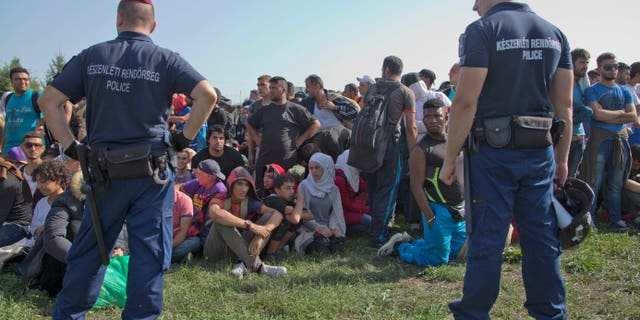 More than 17,000 people surged into Croatia in just two days, prompting Prime Minister Zoran Milanovic to say the country had reached capacity in accepting migrants and refugees, and is now directing people toward Hungary and Slovenia.
"What else can we do? You are welcome in Croatia and you can pass through Croatia. But, go on. Not because we don't like you but because this is not your final destination," Milanovic said.
But Hungary and Slovenia have also moved to keep migrants out. Hungary says Croatia's refusal to accept more refugees is "totally unacceptable." Zoltan Kovacs, a spokesman for the Hungarian government, says Croatia knew exactly what it would be confronting. He says Hungary has been dealing with the migrant crisis for nine consecutive months, whereas Croatia's "supply system collapsed in a single day."
Slovenian riot police blocked the path of about 200 migrants trying to enter from Croatia Friday, after the tiny ex-Yugoslav republic said it was expecting to receive 1,000 in 24 hours.
One woman was holding a rose as the refugees walked across a small bridge over the Sutlariver in no-man's land and a line of riot police stopped them, Reuters reported. A group of Slovenian activists had earlier crossed to the Croatian side, chanting "Refugees welcome!"
Slovenia's government has said it will accept asylum seekers, but will send back anyone deemed to be an illegal immigrant.
An interior ministry official in Slovenia said Friday that "at the moment" the country has no basis for creating a corridor for migrants to pass through, despite the hundreds headed their way. Reuters reported.
"We estimate that about 1,000 persons will arrive within the next 24 hours," Slovanian interior ministry state secretary Bostjan Sefic told a news conference.
Slovenia claims Croatia is breaking the rules of the European Union and the Schengen zone of border-free travel. Sefic said the police were preparing additional units ahead of the influx of migrants from Croatia.
"The actions of Croatia are not in line with EU and Schengensystems as they decided they are no longer registering migrants," Sefic said.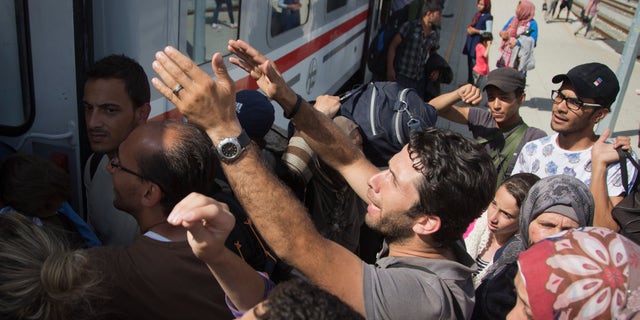 The U.N. refugee agency UNHCR says "the crisis is growing and being pushed from one country to another" as roughly 4,000 migrants and refugees pour into Greece each day and head north. The agency says more than 442,000 people have crossed the Mediterranean this year, and more than 2,900 have died trying.
Hungarian Prime Minister Viktor Orban told state radio Friday that his country has started building a razor-wire fence along a stretch of its border with Croatia to keep migrants from entering the country in that area. Orban said the first phase of the 25-mile barrier will be completed on Friday, with coils of razor wire in place before an actual fence goes up. The prime minister added that he is deploying hundreds of soldiers and police to prepare the fence and defend the border.
Despite the border closures, Sky News reported Friday that refugees were arriving by bus at the Serbian border town of Sid and walking through cornfields to cross the border into Croatia.
Meanwhile, aid groups fear that refugees turned away at the Hungarian border may try to cross Croatian minefields in their bid to reach western Europe. There are estimated to be between 60,000 and 100,000 landmines left over after the Balkan wars of the 1990s covering a 310-square mile area across Croatia.
On Thursday, armed Croatian police initially contained 2,000 migrants who had gathered at Tovarnik railway station after being told transport was available. Children were in tears as they struggled to cope with the crush and, unable to maintain control, the guards eventually had to let hundreds of people through in the afternoon.
One man was seen passed out on the ground.
Sky News Chief Correspondent Stuart Ramsay, said: "They overran the area they were being corralled into - women, children and men running chaotically. I'm sure they don't know where they're going to go.
"This is exactly what Croatia did not want to happen and it's far worse than anyone expected."
Border guards were also forced to stand down in the Croatia town of Batina, where Sky's Mark Stone said he was witnessing "truly awful" scenes.
"Right next to me is a mother with a three-year-old daughter," he said. "They look utterly desperate. The temperature here must be [95 degrees] and there's no water. There is an immediate humanitarian issue here."
Babar Baloch, regional spokesman for Central Europe for the U.N. High Commissioner for Refugees, said Friday that his organization is capable of handling the humanitarian response to the migrant crisis, but "what's missing is a collective EU action."
Baloch says that "within three days we can put in place mechanism for refugee arrivals," or "empty our warehouses in Dubai, Copenhagen and other places."
He adds "we know how to do the job, but the responsibility, the moral and legal responsibility here is on the countries in the European Union." Countries "need to do it together," Baloch said.
Just under 400,000 people applied for asylum in the European Union in the first half of 2015. The European statistics agency says 213,200 people have applied for asylum in the EU in the second quarter of 2015, with Germany receiving more than a third of the new arrivals.
Eurostat says the number of people seeking refuge was 85 percent higher than a year earlier, and up 15 percent on the first three months of the year.
Syrians and Afghans together made up a third of all asylum applicants.
For those three months, Germany took in the biggest share, 38 percent of all applicants. Hungary had 15 percent, Austria had 8 percent and Italy, France and Sweden each had 7 percent.
The Associated Press contributed to this report.