Criminals target women, children as migrant caravan makes its way to Mexico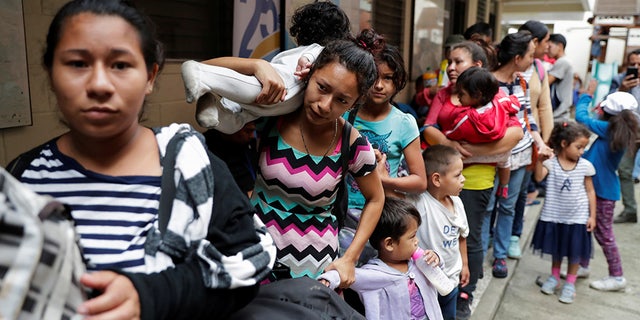 As thousands of Central American men, women and children travel en masse to the Mexican border to escape extreme violence in their homelands, many are doing so knowing the lengthy trip holds hidden dangers that could be fatal for their families.
The collective migration – made mostly on foot, hitchhiking or crammed on top of buses – is at best tiresome. People are weak, get little sleep, food or water and their futures are unknown. But humanitarian workers on the ground as well as immigration advocates say the lengthy journey also puts migrants at risk of rape, violence and other acts of torture.
"It's unspeakable," immigration lawyer Matthew Kolken told Fox News. "In this day and age, we don't allow our children to walk to school alone… The actors that are smuggling individuals are unscrupulous. They take advantage of them. Women are subjected to sexual assault and rape. Children too."
Kolken says criminals sometimes embed themselves in migrant caravans and target unsuspecting individuals.
"(Criminals) have infrastructure that is built up already and are put into place inside the caravans," he said.
David Leopold, chairman of the Immigration Law Group, says despite reports of migrants marching and singing the Honduran national anthem as they make their way to Mexico, the trek out of Central America isn't a "fun ride" but one filled with unimaginable abuse directed at women and children.
"The trip is awful," Leopold told Fox. "(Migrants) are susceptible to crime. Women get raped, children are in danger. It's not simply sitting on a bus and it's not a fun ride."
Leopold also pushes back on President Trump targeting caravans and says the United States needs to get to the root of the problem to make a sustainable impact on illegal immigration.
"The U.S. ought to take responsibility," he said. "If we want to keep our borders secure… then the country needs to invest in these countries. Guatemala, El Salvador, Honduras… we need to make sure that the root causes are solved."
The Central American caravan on Friday broke through a Guatemalan border fence and streamed by the thousands toward Mexican territory, defying Mexican authorities' entreaties for an orderly migration and Trump's threats of retaliation.
Arriving on the Mexican side of a border bridge, they were met by a phalanx of police with riot shields. About 50 managed to push their way through before officers unleashed pepper spray and the rest retreated.
The gates were closed again, and a federal police officer used a loudspeaker to address the masses, saying, "We need you to stop the aggression."
Waving Honduran flags and carrying umbrellas to protect against the sun, the migrants arrived earlier at the Guatemalan side of the muddy Suchiate River that divides the country from Mexico, noisily demanding they be let in.
"One way or another, we will pass," they chanted, clambering atop U.S.-donated military jeeps parked at the scene as Guatemalan police looked on.
Young men began tugging on the fencing and finally succeeded in tearing it down, and men, women and children rushed through and toward the border bridge just up the road.
Edwin Santos of San Pedro Sula was one of the first to race past helpless Guatemalan police, clutching the hands of his father and wife.
"We are going to the United States!" he shouted euphorically. "Nobody is going to stop us!"
Earlier Friday, Mexico's ambassador to Guatemala said his country intended to enforce what he called a policy of orderly entry in the face of the thousands trying to cross.
Ambassador Luis Manuel Lopez Moreno added that more than 100 migrants had been allowed to cross the bridge to apply for refugee status, including some who were from the caravan and others who were not.
Meanwhile, the rafts that normally ferry throngs of people across the river were carrying mostly merchandise and the raft operators said they had been warned by Mexican authorities not to carry people.
Jose Porfirio Orellana, a 47-year-old acorn and bean farmer from Yoro province in Honduras, said he hopes to reach the United States due to woeful economic conditions in his country.
"There is nothing there," Orellana said.
The first members of the 3,000-strong caravan began arriving in the Guatemalan border town of Tecun Uman on buses and trucks early Thursday, but the bulk of the group sloshed into town on foot in a downpour late in the afternoon and into the evening.
As the sun rose, a military helicopter flew along the Mexican side of the river foreshadowing the difficulties they could face. At the same time, several busloads of Mexican federal police in riot gear deployed at the border crossing in Ciudad Hidalgo.
The Associated Press contributed to this report