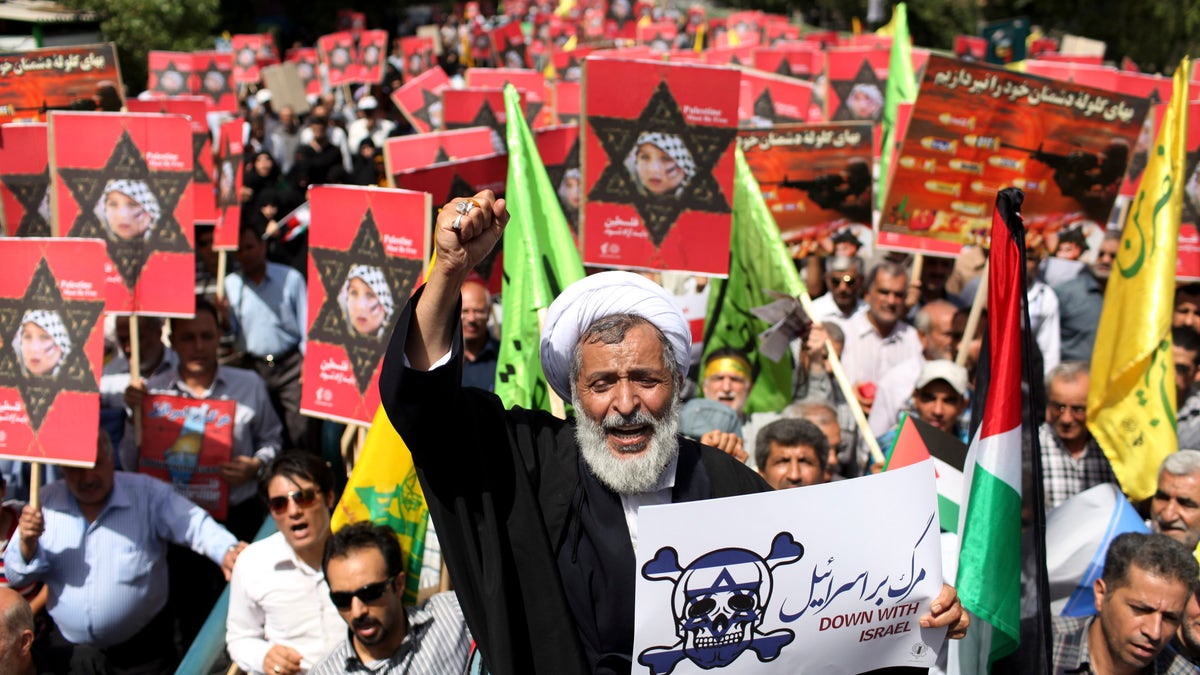 TEHRAN, Iran – Iran's president-elect called Israel's control of Jerusalem and Palestinian lands a "wound" for the Islamic world in heavily disputed remarks Friday.
Speaking to reporters during an annual pro-Palestinian rally, Hasan Rouhani said "In our region and under occupation of Palestine and dear Jerusalem, there has been a wound on the body of the Islamic world."
The remarks -- two days before Rouhani's inauguration -- were tame compared to those frequently made by outgoing leader Mahmoud Ahmadinejad calling for the Jewish state's destruction and the country's Supreme Leader Ayatollah Ali Khamenei, who once called the Jewish state a "cancer" that needed to be cut away.
But an outcry prompted by a semiofficial news agency that initially quoted Rouhani as specifically calling Israel a "wound that should be removed" underscored the challenges facing Rouhani who has pledged to follow a "path of moderation."
Iran allows no flexibility in its harsh views on Israel and its backing for anti-Israeli factions such as Lebanon's Hezbollah militant group. But, at the same time, it seeks to move ahead its outreach to the West over its nuclear program and potential efforts to ease painful economic sanctions.
The Islamic Republic seeks to keep the issues separate, but also recognizes that previous denunciations of Israel by Ahmadinejad and others brought outrage from Washington and its allies.
Israel and supporters slammed Rouhani after he was quoted by Iran's semiofficial ISNA news agency as saying "the Zionist regime has been a wound on the body of the Islamic world for years and the wound should be removed." But the news agency later said it had misquoted Rouhani and his remarks were shown on state TV.
Rouhani's official website also published the new quote, which had no direct reference to Israel or saying the wound should be removed.
The president-elect also expressed doubts about the possibility of an Israeli-Palestinian peace deal even as the two sides resumed negotiations in Washington this week, ending a five-year freeze in Mideast talks.
"Israelis show a compromising face to the world but continue their expansionism in practice," Rouhani said according to Fars, another semiofficial news agency.
Rouhani, who was elected in June amid pledges to seek calmer and more balanced outreach to the West, appears to be trying to maneuver in this tight space: Making it clear that he stands with Iran's uncompromising positions on Israel, but also backing away from Ahmadinejad's fist-waving approach.
Iran's presidency does not have the power to fully direct policies, however, and it's unclear how much backing he has from Khamenei or the powerful Revolutionary Guard -- which jointly control all key decisions.
Israel's Prime Minister Benjamin Netanyahu promptly condemned Rouhani's remarks as they were reported earlier.
Officials in the Israeli Prime Minister's office spoke to Fox News about Netanyahu's later reaction to the scrutinized remarks:
"The (Israeli) Prime Minister was responding to what was widely reported about the Iranian president comments. The Iranians have a consistent track record of saying things and later denying having said that. We have no doubt that the remarks attributed to President Rohani correctly reflect his thinking."
The Israeli leader has urged the world to step up pressure on Tehran to halt its disputed nuclear program with tougher sanctions and threats of military action.
Rouhani, who is to officially replace Ahmadinejad on Sunday, has pledged to follow a "path of moderation" and promised greater openness over Iran's nuclear program, which has placed it at odds with the West.
Netanyahu said Rouhani's statement as reported earlier Friday should serve to "wake up the world from the illusion" that a new Iranian president meant a new policy by Tehran.
"The real face of Rouhani has been exposed earlier than expected," Netanyahu said. "This is what the man thinks and this is the Iranian regime's operational plan ... A country that threatens to destroy Israel must not be allowed weapons of mass destruction."
Iran does not recognize Israel and has since the 1979 Islamic Revolution observed the last Friday of the Islamic month of Ramadan as "Al-Quds Day." Tehran says the occasion is meant to express support for Palestinians and emphasize the importance of Jerusalem for Muslims.
Jerusalem's eastern sector houses sensitive Jewish, Christian and Muslim shrines and is sacred to all three religions. Jerusalem is the holiest place in Judaism and the third holiest city in Islam, after the Saudi Arabian cities of Mecca and Medina.
Anti-Israeli rallies were held in cities and towns across Iran. In the capital, Tehran, tens of thousands took to the streets, chanting "Down with America" and "Death to Israel." Some protesters also burned American and Israeli flags.
Ahmadinejad - who was known for vitriolic anti-Israeli rhetoric while in office, including calls that Israel be destroyed - spoke to the crowds after Friday prayers at the Tehran University campus in his last public speech before his term ends.
"You Zionists planted a wind but you will harvest a storm," said Ahmadinejad. "A destructive storm is on the way and it will destroy Zionism."
Israel has not ruled out a military option against Iran's nuclear facilities, which the West suspects are geared toward making a nuclear weapon. Tehran denies the charge and insists its nuclear program is meant for peaceful purposes only.
The Associated Press contributed to this report.