Colorado Sees Drop In School Expulsions Following New Reform Law, Study Indicates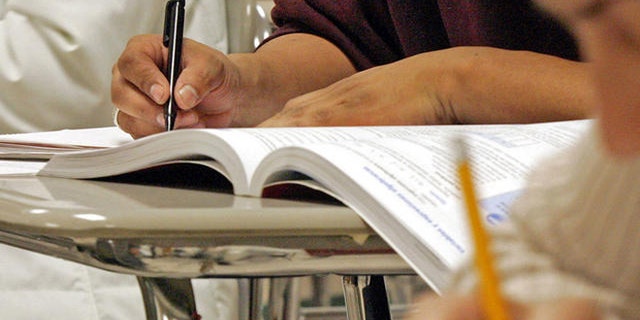 DENVER (AP) – Fewer Colorado students are being expelled in the wake of a statewide reform measure, according to a new study that could amplify Colorado's voice in a growing nationwide debate over whether discipline procedures are setting students — particularly those from minority communities — on a path to prison and failure.
"Colorado School Discipline Report Card: Year One" was released Friday by Padres y Jovenes Unidos. The group, which has worked on the issue for more than two decades, analyzed data for 2012-13, the first full school year since the adoption in 2012 of Colorado's so-called Smart School Discipline Law.
The study found an overall 25 percent drop from the previous year in expulsion rates, from 0.24 per 100 students to 0.18. But statistics compiled from school districts also show that black students were almost four times and Native American and Hispanic students around twice as likely to be suspended, expelled or referred to law enforcement authorities as white students. And the rate of referrals to law enforcement authorities was up 8 percent for black students, from 2.1 per 100 students to 2.2.
Daniel Kim, director of youth organizing for Padres y Jovenes, said the continuing racial disparities and differences from district to district show that more work needs to be done.
Colorado "has taken a big step in passing the law," he added. "If it wants to continue to lead, it has to figure out a way to deal with the disparities."
Denver Public Schools, Colorado's biggest district, was among those showing big drops in expulsion and suspension rates. But statistics compiled by Padres y Jovenes also showed troubling disparities in rates for black and white students in Denver.
Antwan Wilson, an assistant superintendent in Denver, said the district was determined to continue work it began years before the state law was passed that included cultural training for teachers and training to help parents help their children understand what is expected of them at school. Wilson said the goal was to reduce expulsions and suspensions, but maintain discipline, and that progress takes time.
Wilson said that while Denver started reforms before the state law was passed, the law and the new national discussion helped reinforce what his teachers and administrators were trying to do. He praised the law in particular for lifting requirements that in the past had led, for example, to students being automatically expelled for bringing a toy gun to school even when the circumstances were innocent.
"We are able to use more discretion,'" Wilson said.
Earlier this year, President Barack Obama's justice and education departments sent school districts across the country a letter saying the burden of routine discipline fell on them, not police officers, and urging them to ensure that all personnel are trained in classroom management, conflict resolution and other approaches to defusing problems.
The letter also stated that the departments' own reviews had found that black students were disciplined more harshly and frequently than white students in similar circumstances. "Racial discrimination in school discipline is a real problem," the federal departments said.
Harsh discipline at school can lead to records that can make it difficult for young people to get financial aid for college or jobs or to join the military.
"'These are consequences that follow youth around for the rest of their lives,'" Kim said.
The 2012 Colorado reform, among other measures, required districts to implement mediation and counseling strategies aimed at keeping students out of the juvenile and criminal justice systems.
Linda Newell, a state senator who co-sponsored the 2012 legislation, said lawmakers in other states hoping to follow Colorado's lead should be prepared to be patient and seek broad, nonpartisan support in the face of possible questions about whether changes could undermine safety. Newell spent two years on the Colorado law.
"It was probably the most difficult bill I've ever passed," the Littleton Democrat said.
Follow us on twitter.com/foxnewslatino
Like us at facebook.com/foxnewslatino