Colombia's FARC Calls For 30-Day Cease Fire Starting Next Week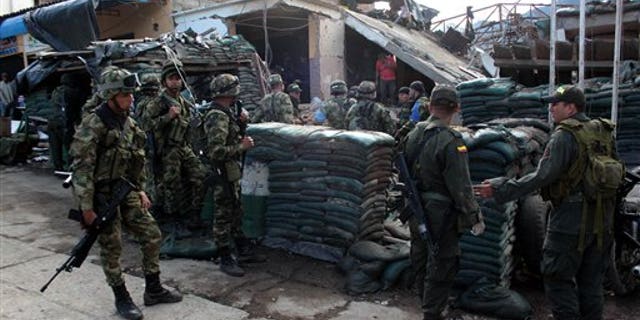 HAVANA (AP) – Colombia's largest rebel group says it's calling a 30-day cease-fire starting Dec. 15.
Leaders of the Revolutionary Armed Forces of Colombia made the announcement Sunday in Havana, which is hosting the insurgents' peace talks with the Colombian government. The communique was read by rebel commander Pablo Catatumbo.
The announcement comes a day after a rebel attack killed nine people in an attack on a police post. Twenty-three civilians and 12 police also were injured.
Lt. Col. Mauricio Cardenas said Revolutionary Armed Forces of Colombia rebels threw artisanal mortars at the station from a truck on Saturday, destroying that and several other buildings.
Colombian President Juan Manuel Santos has ruled out a cease-fire on the government's part during the peace talks that started late last year. The rebels declared a unilateral cease-fire when the talks started, but abandoned it two months later.
Follow us on twitter.com/foxnewslatino
Like us at facebook.com/foxnewslatino