Colombian Peace Talks Marred by FARC Attacks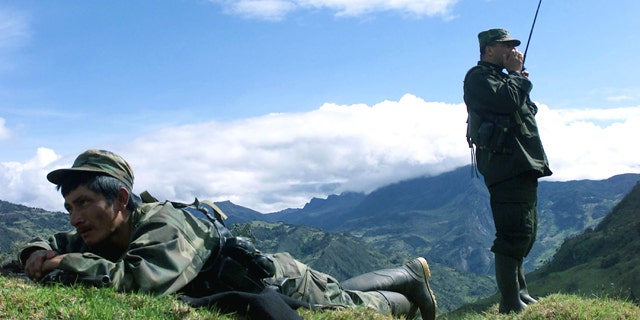 The second round of peace talks between the Colombian government and Latin America's largest remaining guerrilla group, the Revolutionary Armed Forces of Colombia, kicked off earlier this week, but the negotiations did not herald the wave of tranquility in the Andean nation that many had hoped would follow.
As leaders met in Havana for the ongoing discussions, FARC rebels ambushed a group of soldiers close to the capital of Bogotá over the weekend, which was followed by a FARC bombing of a police station near the country's border with Ecuador that left the offices in ruins.
Late last month, Colombian troops struck their own blow against the FARC, killing the leader of the FARC's Fifth Front and five others when they stormed a guerrilla camp.
The rebel group declared a two-month unilateral cease-fire when the formal peace talks in Havana began, but it lapsed on Jan. 20. The FARC had urged the government to temporarily cut the hostilities, but Colombian President Juan Manuel Santos has refused.
Colombia's president argues that agreeing to a cease-fire would give the FARC the opportunity to regroup, as it did during the failed 1999-2002 talks when it was granted a Switzerland-sized safe haven.
The two sides are still working on the first point of their six-item agenda; both sides insisted talks are developing in a respectful atmosphere.
"The FARC believes it is necessary to tackle national problems, that it urgently needs changes to unjust structures. ... If you don't want conflict, you have to remove those causes," said the rebels' lead negotiator, Ivan Marquez, back in December.
Marquez, whose birth name is Luciano Marin Arango, said Colombia needs social justice and equality for a true peace.
Both sides have made some headway by promoting an agrarian forum in Bogotá; setting up a Web site that has elicited more than 2,000 proposals for citizen participation in the peace process; and receiving thousands more ideas collected from Colombians by lawmakers back home.
The Colombian government and the FARC are looking for points of agreement upon which to build a peace accord. In a joint statement, they said talks will begin with agrarian reform, the first item on the agenda.
Formed in the 1960s, the FARC is believed to have about 9,000 members and is the oldest active guerrilla army in the Western Hemisphere.
Neither side has set a definitive date for a conclusion to the negotiations, although Santos has said they shouldn't go beyond November.
Follow us on twitter.com/foxnewslatino
Like us at facebook.com/foxnewslatino