Cologne police correct details on New Year's Eve ID checks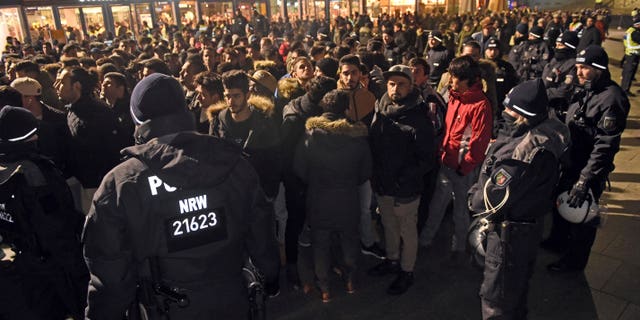 NEWYou can now listen to Fox News articles!
BERLIN – Police in Cologne say that hundreds of men stopped from heading into the city on New Year's Eve included large numbers of Iraqis and Syrians, rather than North Africans as authorities originally reported.
Cologne police were widely praised for their actions, which there intended to prevent a repeat of robberies and sexual assaults a year earlier, blamed largely on North African migrants.
COLOGNE POLICE CHIEF REJECTS CLAIMS OF 'RACIAL PROFILING' AFTER 100S OF 'AFRICAN' MEN DETAINED
Some commentators expressed concern though, that officers possibly engaged in racial profiling, which police denied.
Police initially said that, of some 670 people detained for identity checks, nearly all were north African. But they said Friday that of 425 whose nationality has been established, 99 were Iraqi and 94 Syrian, along with 48 Afghans and 46 Germans. There were 17 Moroccans and 13 Algerians, news agency dpa reported.