Clinton: Qaddafi Associates Seeking to Negotiate Transition of Power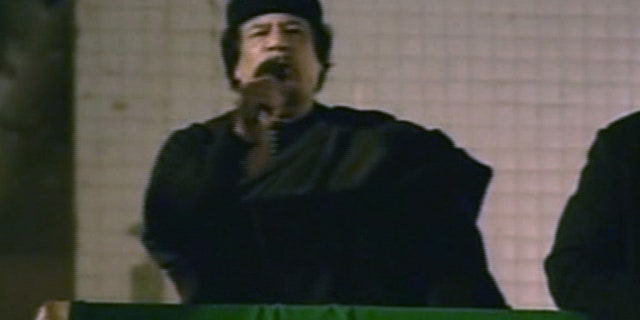 ABU DHABI, United Arab Emirates – People close to Libyan leader Muammar al-Qaddafi are looking for international help to negotiate his departure from power, U.S. Secretary of State Hillary Rodham Clinton said Thursday, as countries backing NATO's military mission in Libya predicted Qaddafi's demise may be imminent.
International donors meeting in Abu Dhabi pledged more than $1.3 billion to help support Libya's main opposition group as it plans a strategy for a post-Qaddafi era, but opposition leaders grumbled that donors have been stingy and slow. NATO intensified airstrikes against Qaddafi-held areas around the Libyan capital but the opposition says rebels fighting to oust Qaddafi cannot hold on without more help.
"There have been numerous and continuing discussions by people close to Gadhafi and we are aware that those discussions include, among other matters, the potential for a transition," Clinton told reporters after a meeting of top officials from the more than 30-member Contact Group on Libya.
Asked about reported overtures from Qaddafi loyalists to African nations for possible exile, Clinton would not speculate if any would be accepted. But she said decades of Qaddafi's despotic rule were on the verge of collapse. Her comments were echoed by other officials at the conference in Abu Dhabi.
"Qaddafi's days are numbered," Clinton said. "We are working with our international partners through the U.N. to plan for the inevitable: a post-Qaddafi Libya."
Qaddafi may be out sooner than many had predicted, said Australian Foreign Minister Kevin Rudd.
The military campaign had been in stalemate for weeks, with forces loyal to the strongman able to easily hold off rebel offensives. Rebels have taken control of swaths of eastern Libya, but Qaddafi remains in control of the capital, Tripoli. Qaddafi shows no signs of ceding power under the building pressure of NATO airstrikes, despite repeated attacks on his compound, government buildings, military radar emplacements and other army installations
"The momentum is decisively moving against the regime," Rudd said.
NATO airstrikes rattled the Libyan capital Thursday with clusters of bombing runs believed to have targeted the outskirts of Tripoli.
By nightfall Thursday, a total of 14 air attacks had been carried out, considerably fewer than Tuesday. There were eight explosions in a first series of strikes on Thursday and hours later, the sound of six more airstrikes boomed in the distance.
The bombing continued early Friday as three fresh strikes sent plumes of smoke over Tripoli. Their direction suggested that either Qaddafi's compound or nearby military barracks were shelled. Government officials have not been commenting on NATO strikes.
After the strikes, pro-Qaddafi supporters fired assault rifles into the air and beeped their car horns in defiance.
The intensity of the attacks suggested a return to the heavy NATO bombardment of the city that hit military installations across the capital earlier this week. The heaviest attacks on Tripoli since the air campaign began two months ago flattened major buildings in Qaddafi's sprawling compound in the center of the city and fed speculation that NATO is closing in on the leader.
The NATO mandate is to protect Libyan civilians, not topple the government, but President Barack Obama and other leaders have been clear that they want Qaddafi gone.
CIA chief Leon Panetta said in testimony before the Senate Thursday the NATO military operation, strong economic sanctions, and enforcement of the no-fly zone are putting tremendous pressure on Qaddafi. Obama has named Panetta to take over the Pentagon this summer.
In Brussels on Thursday, NATO Secretary-General Anders Fogh Rasmussen said new government attacks near rebel-controlled Misrata underscore the continued need to protect civilians.
"It is an example that the Qaddafi regime still constitutes a threat to the civilian population," he said. "We will stay committed as long as necessary."
The rebel Transitional National Council appealed for urgent infusions of cash to keep from going broke.
The council is trying to establish an interim government to take over after Qaddafi leaves and to organize democratic elections. It says it needs $3 billion to survive the next four months and warned that Thursday's meeting would be a "total failure" if financial assistance was not forthcoming.
"We want more commitments, something tangible and practical to help our people," Libya's former U.N. ambassador Abdurraham Mohamed Shalgham told reporters. "We have more than one enemy. Qaddafi is killing our people and now we have starvation."
Italy and France responded by offering a combined $1.02 billion while Kuwait and Qatar promised a combined $280 million.
Turkey announced it would set up a $100 million fund for reconstruction and recovery.
Preparing for Libya's next phase leapfrogs the question of what happens to Qaddafi -- exile, prosecution, death in an airstrike or something else. Qaddafi loyalists and rebels would also have to agree on terms for a ceasefire.
Work began Thursday to set political terms for a post-Ghadafi future. The council provided a road map to the 30 countries for how it planned to run the country on an interim basis until democratic elections are held.
Diplomats also approved financial controls to help ensure funds provided to the rebel Transitional National Council are spent appropriately.
"The negotiations were difficult but at the end we found a solution that was transparent and satisfied all parties and the needs of the TNC," said Sheik Abdullah bin Zayed Al Nahyan, a co-chair of the meeting and the foreign minister of the United Arab Emirates.
In the communique issued after the meeting, countries said greater efforts should be made "to put financing on a more sustainable footing" by helping the TNC restart the production and export of crude oil and encouraging "states to look at how assets that belong to the Libyan people can be best used to help" them.
Clinton may have disappointed the rebel-affiliated group by saying that while Washington would boost its humanitarian aid to all Libyans by $26.5 million it would not immediately offer any direct aid to the council.
But she and Rudd announced that the U.S. and Australia now recognized the council as "the legitimate interlocutor" for the Libyan people, moving a shade closer to conferring formal recognition on the body that could lift hurdles to additional money.
Clinton acknowledged that the council "faces a serious budget shortfall" and "needs our immediate financial assistance." She noted that a group of U.S. lawmakers has come up with a framework to allow a portion of the frozen assets to be used to pay for humanitarian relief. She called on other countries to follow suit.
The U.S. said on Wednesday that the first shipment of Libyan oil sold by the council had been delivered to an American refinery and Clinton encouraged other nations to make similar purchases to help the Libyan people.