Clinton Arrives in South Korea for Nuclear Talks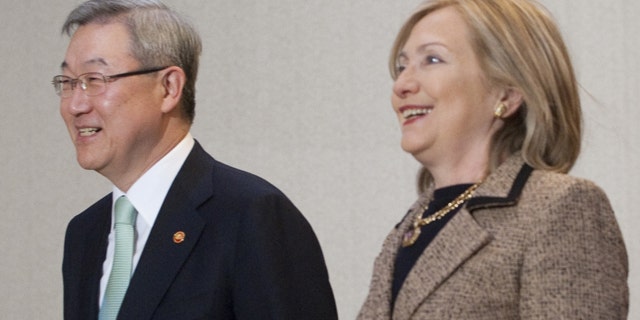 SEOUL -- U.S. Secretary of State Hillary Rodham Clinton used a brief stopover in South Korea to discuss joint efforts to ratify a free trade agreement and get North Korea back to nuclear disarmament talks.
Clinton met with Foreign Minister Kim Sung-hwan on Saturday evening before planned talks early Sunday with President Lee Myung-bak.
Clinton told Kim that she was "very encouraged and determined" to get the free trade agreement ratified. The two countries worked out a hard-fought compromise in early December altering the original deal, signed in June 2007, because of U.S. complaints that it did not secure enough access for American automakers.
Moves for ratification had also stalled amid changes in government in both countries and the global financial crisis.
"We will be consulting and making the case together to our respective legislatures and I'm very confident that there will be a positive outcome that will benefit both of our countries," Clinton said.
Kim said Clinton's visit would provide a fresh impetus for ratification. The pact, which slashes tariffs and removes other barriers to commerce, requires approval by Congress and South Korea's National Assembly before it can take effect. It is the largest such pact for Washington since the North American Free Trade Agreement with Canada and Mexico in 1994.
Clinton did not mention North Korea in public remarks before holding talks with Kim. But the South Korean foreign minister thanked her for U.S. support in dealing with the North and said he looked forward to "working closely with you in resolving the North Korean nuclear issues."
International efforts to achieve North Korea's denuclearization have stalled and tensions between the two Koreas have spiked, especially since the sinking in March last year of a South Korean warship that killed 46 sailors and a deadly North Korean attack on a front-line South Korean island in November.
South Korea and the U.S. have blamed North Korea for the ship sinking, although the North has denied involvement.
Clinton is to travel to Tokyo on Sunday to show U.S. support for Japan as it recovers from a major earthquake and tsunami as well as the world's worst nuclear accident since Chernobyl a quarter century ago.
Clinton arrived in South Korea on Saturday after two days of NATO meetings. She assured NATO allies that Washington is prepared to do what it takes to ensure the success of the Libya mission and called on U.S. partners in Europe and elsewhere to boost pressure on Moammar Gadhafi to step down from power.