Climbers approach summit of Mount Everest after 2 years of disasters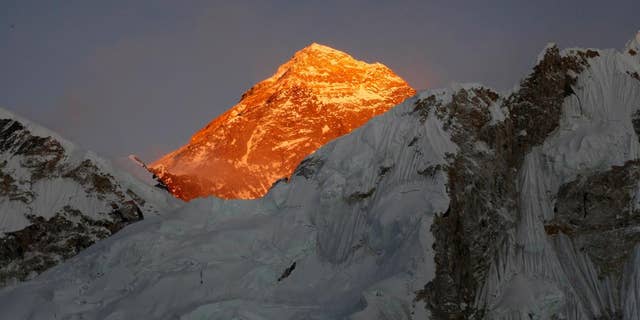 NEWYou can now listen to Fox News articles!
Climbers are making good progress on Mount Everest and the first group could reach the summit as early as Thursday, following two years of disasters on the world's highest mountain, a mountaineering official said Tuesday.
Nearly 300 foreign climbers and their guides are attempting to reach the 8,850-meter (29,035-foot) summit.
Nepal Mountaineering Department official Gyanendra Shrestha, who is stationed at the base camp, said the last camp at South Col has been set up and the route to the summit was being fixed on Tuesday.
The South Col, or Camp 4, is located at about 8,000 meters (26,240 feet) altitude and is the last place for climbers to pause before they try to reach the summit. Tents there have basic gear, supplies and oxygen cylinders.
He said weather was favorable for climbing with only light snow falling Tuesday.
Nepal is hoping for a safe 2016 season, after an avalanche triggered by a powerful earthquake killed 19 climbers and injured 61 others at base camp last year. In 2014, 16 Sherpa guides were killed by an avalanche above the base camp.
The two disasters largely emptied the peak. Last year's climbing season was scrubbed, and nearly all of the climbers in 2014 abandoned their attempts after the avalanche. The only team who reached the summit that year from the Nepal side was a Chinese woman and her five Sherpa guides.