Clashes in European cities as Mideast refugee crisis erupts
NEWYou can now listen to Fox News articles!
Clashes broke out between police and some 1,000 migrants attempting to storm a ferry on the Aegean island of Lesbos Friday, and 500 migrants broke through a police barricade in Hungary, marching towards the Austrian border as hundreds of thousands of mostly Syrians and Afghans flee the horrors of war, causing the worst refugee crisis in Europe since World War II.
The mayor of Lesbos is appealing for "immediate measures" to help alleviate the urgent migrant crisis on his island, which is the entry point for about half of the hundreds of thousands who have arrived in Greece so far this year.
Spyros Galinos described the situation as a bomb about to explode in his hands. "I appeal to the prime minister for immediate measures," he told state television Friday.
"We will have victims," Galinos warned.
Earlier Friday, clashes broke out between police and about 1,000 people, mostly Afghans, rushing onto a ferry heading to Greece's main port of Piraeus, near Athens. Police tried to quell the chaos by firing stun grenades at the stone-throwing crowd.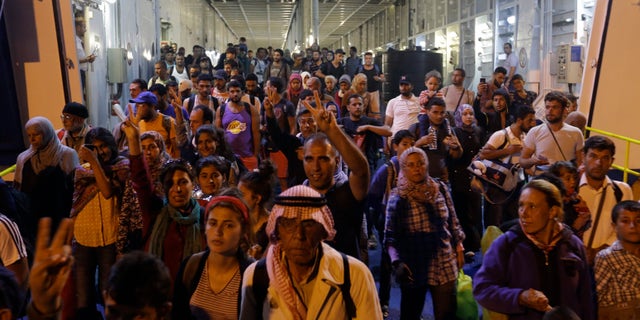 Galinos said there were currently about 15,000 refugees and migrants on his island, 7,000-8,000 of whom were already registered and waiting to leave Lesbos for Athens but were unable to find ferry tickets due to fully booked ships. The government has chartered two ferries to transport the migrants, but with thousands of new arrivals each day, they have not been enough.
Also Friday, a group of about 500 migrants marching on a Hungarian highway towards the Austrian border broke through a police barricade and continued on the main road connecting Budapest and Vienna, Reuters reported.
The group of families-- mostly from Syria and Afghanistan--left Budapest's Keleti railway station early Friday after authorities refused to allow them to travel to Austria by train.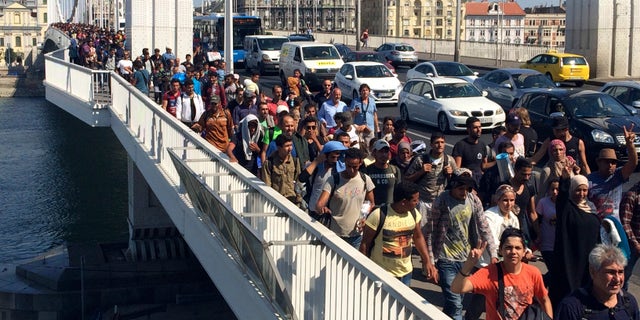 Many of the people in the column held up pictures of German Chancellor Angela Merkel and chanted "Germany, Germany."
More than 340,000 migrants have arrived in Europe since the beginning of the year. Some 160,000 have entered Hungary, which blames Germany for encouraging more Syrians to apply for asylum.
The German government declined to offer advice to Hungary on how to deal with migrants who refuse to be registered at camps there.
Government spokesman Steffen Seibert said Friday he "can't give any recommendations to the Hungarian authorities or anyone else in the absence of precise knowledge of the situation in and around Budapest."
Refugees are trying to avoid Hungarian camps because they don't want to pursue asylum claims there. Hungary says the influx is Germany's problem because most want to go to Germany.
Seibert reiterated Berlin's position that a pan-European response is required. He noted Budapest's obligation to register, process and take care of migrants and said Germany "assumes that Hungary, as part of the Western community of values, will do justice to its legal and humanitarian obligations."
Meanwhile, Germany called on European Union nations to restore a sense of unity. German Foreign Minister Frank-Walter Steinmeier said Friday "we will not cope with this task if we do not stop pointing with the finger at our neighbor."
He said "blaming one another will not lead us to get the problem under control." Steinmeier said that "Europe cannot let itself be divided, even in the face of such a challenge."
The U.N. refugee agency said Friday that Britain will take 4,000 more Syrian refugees from camps in the Middle East to help Europe cope with a massive influx of migrants and refugees.
"We obviously welcome very much the move to increase resettlement spaces for Syrians in the UK. Those spaces are going to be critical to the lives and future of 4,000 people," said spokeswoman Melissa Fleming.
"We certainly believe that there's the momentum here" for other countries to follow suit.
British Prime Minister David Cameron said earlier in a statement during an official visit to Lisbon, Portugal, that his country would accept "thousands" more people, on top of the 5,000 already announced.
Cameron said Britain intends to take Syrians directly from refugee camps in the Middle East, not from places where they have arrived in Europe.
"Britain will act with our head and our heart" on the issue, the statement said.
Ireland has also agreed to take at least 1,800 refugees, tripling initial plans announced in July to accept roughly 600 over the next two years.
Justice Minister Frances Fitzgerald said Friday that a more comprehensive response is needed to the "heartbreaking and tragic" events unfolding. She said the number accepted will be "in the thousands" but that no precise figure has been determined yet.
EU Migration Commissioner Dimitris Avramopoulos says a fast-track processing center will be set up at Greece's main port of Piraeus, near Athens, where European teams will quickly fingerprint and process migrants. The center will determine who among those arriving is a refugee fleeing persecution or war and therefore entitled to asylum in Europe, and who is an economic migrant, who will be sent home.
Avramopoulos said the migration crisis is "directly linked to the geopolitical instability" of nearby countries. He added it "will not end in a night. And no measure can deal with it quickly and effectively. Method, system are needed, political will is needed."
The Associated Press contributed to this report.