Clashes hit Damascus amid chemical weapons fears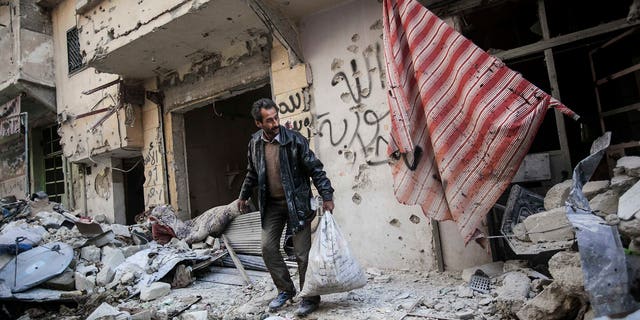 DAMASCUS – Syrian forces fired artillery at rebel targets in and around Damascus on Tuesday as the country's civil war closed in on President Bashar Assad's seat of power and the international community grew increasingly alarmed about the regime's chemical weapons stocks.
Syrian rebels have made gains in recent weeks, overrunning military bases and bringing the fight to Damascus. Since Thursday, the capital has seen some of the heaviest fighting since July, killing scores of people, forcing international flights to turn back or cancel flights and prompting the United Nations to withdraw most of its international staff.
U.S. intelligence has detected signs the regime was moving chemical weapons components around within several sites in recent days, according to a senior U.S. defense official and two U.S. officials. The activities involved movement within the sites, rather than the transfer of components in or out of various sites, two of the officials said.
But this type of activity had not been detected before and one of the U.S. officials said it bears further scrutiny.
NATO Secretary-General Anders Fogh Rasmussen warned Tuesday that "if anybody uses chemical weapons, I would expect an immediate reaction from the international community."
His comments echoed a warning on Monday from President Barack Obama that there would be consequences if Assad made the "tragic mistake" of deploying chemical weapons.
"Syrian stockpiles of chemical weapons are a matter of great concern," Fogh Rasmussen said as he arrived in Brussels.
Syria is party to the 1925 Geneva Protocol banning chemical weapons in war.
In July, Syria threatened to unleash its chemical and biological weapons in case of a foreign attack. The statement was Syria's first-ever acknowledgement that the country possesses weapons of mass destruction.
But the regime quickly tried to clarify its comments, saying "all of these types of weapons -- IF ANY -- are in storage and under security." That appeared to be an attempt to return to the regime's position of neither confirming nor denying whether it possessed non-conventional weapons.
NATO foreign ministers are expected Tuesday to approve member Turkey's request for Patriot anti-missile systems to bolster its defense against strikes from neighboring Syria.
Ankara, which has firmly backed the Syrian opposition, wants the Patriots to defend against possible retaliatory attacks by Syrian missiles carrying chemical warheads.
Syria is reported to have an array of artillery rockets, as well as short- and medium-range missiles in its arsenal -- some capable of carrying chemical warheads.
In the Damascus area, the Britain-based opposition activist group Syrian Observatory for Human Rights said Tuesday's clashes between rebels and troops loyal to Assad were taking place in Beit Saham, Akraba and Yalda suburbs as well as near the international airport.
The Observatory relies on reports from activists on the ground.
The state-run news agency SANA reported that eight students were killed when mortar round hit their school in the near the Damascus suburb of Douma. It said the mortar was fired by terrorists, the same term the regime uses to describe rebels.
The Damascus suburbs, which have been opposition strongholds since the uprising against Assad began in March 2011, have been the scene of heavy fighting since last week following the start of an army offensive to regain lost territory around the capital. Assad's forces have so far repelled major rebel advances on the capital, though their hold may be slipping.
Syria's official SANA news agency said a journalist for the state-run Tishrin newspaper was killed near his home in al-Tadhamon suburb of Damascus. Naji Assaad was "assassinated by an armed terrorist group" Tuesday morning on his way to work, SANA said. The regime refers to rebels fighting to topple Assad as terrorists.
The Syrian uprising began with peaceful protests in March 2011, but has since morphed into a civil war that activists say has killed more than 40,000 people.
Washington has so far declined to intervene in the crisis, saying doing so could worsen the conflict.
On Monday, U.S. officials said the White House and its allies were weighing military options to secure Syria's chemical and biological weapons.
Syria is believed to have several hundred ballistic surface-to-surface missiles capable of carrying chemical warheads, and a U.S. defense official said American and allied intelligence officials have detected activity around more than one of Syria's chemical weapons sites in the last week.
As the battles rage on the ground, there was growing speculation about the fate of a top Syrian spokesman who has become a prominent face of the regime.
Lebanese security officials say Jihad Makdissi, the Foreign Ministry's spokesman, flew Monday from Beirut to London. But it was not clear whether Makdissi had defected, quit his post, or been forced out. Syria had no official comment on Makdissi, who speaks fluent English and has defended the regime's crackdown on dissent.