Chinese teenager Si wins world 10m platform gold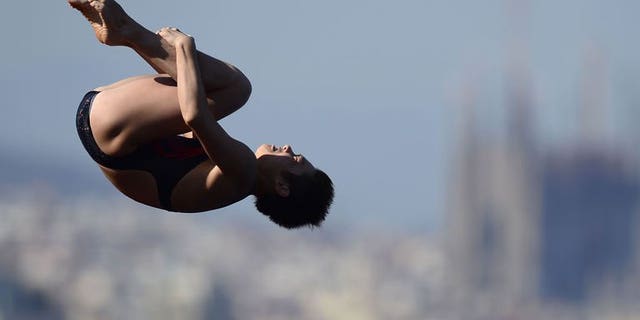 BARCELONA (AFP) – Fourteen-year-old Si Yajie of China won the women's world 10m platform gold on Thursday with compatriot Chen Ruolin, the previous world and Olympic champion, in silver and Ukraine's Iulia Prokopchuk third.
"I am very excited with this gold," beamed Si.
"Overall, my performance was quite good, especially the first four dives where I was consistent.
"The secret of my success? Train hard and not be lazy."
Si triumphed with 392.15 points, with defending title-holder Chen, a four-time Olympic champion, who won world gold on Monday in the 10m synchro, fewer than four points adrift on 388.70.
"I am pretty satisfied with my final, except for the fourth dive, which I had only performed once. It went a bit wrong," said Chen.
"The competition is as it is -- someone wins, and someone has to lose. The key is how you manage your failure.
"If you keep looking back, you won't do it better, if you look ahead, your failure will just be a bad memory.
"Having strong opponents in the Chinese team is an additional motivation for me to perform well."
European champion Prokopchuk scooped the bronze on 358.40, more than 30 points behind the Chinese pair.
"I cannot believe that I am seated here, with my first medal at a World Championships around the neck," said Prokopchuk.
"Can we beat the Chinese?
"Nothing is impossible, but we don't reveal our secrets. The idea is to be at the top in 2016 in Rio and try perhaps to do better than the Chinese."
It was the sixth diving title won by China out of the seven contested so far in Barcelona with only Germany's win by Sascha Klein and Patrick Hausding on Sunday in the men's 10m synchro blotting the copy book.
Victoria Lamp of the USA took the lead in the opening round on Thursday with an excellent armstand dive, but Chen and Si were only just behind.
The Chinese pair recorded identical scores in the second and third rounds as they moved clear of the rest of the field.
Chen, who will only turn 21 in December, faltered in the fourth round, enabling Si to move 8.25 points clear and although Chen outscored Si in the final round, it was not enough to make up the the 3.45 points to claim gold.