Chinese premier kicks off South America investment tour with stop in Brazil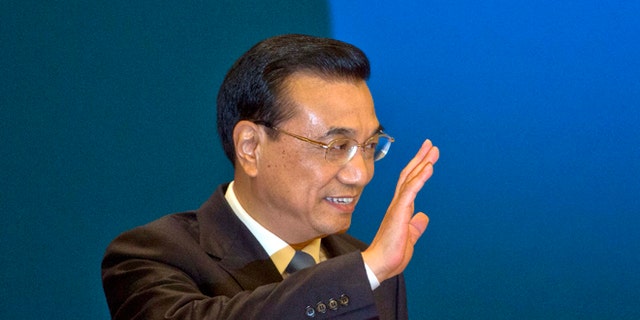 RIO DE JANEIRO (AP) – China's Premier Li Keqiang will accelerate plans for an ambitious railway linking Brazil's Atlantic coast with a Pacific port in Peru, and announce billions in other investments and trade deals, when he visits Brasilia on Tuesday.
The stop in Brazil will be his first on a four-nation South American tour that includes Chile, Peru and Colombia. It comes as the continent feels the pinch of lessening Chinese demand for its commodities.
"We're moving into a different era, because China's economy is transforming to being consumer based and it's slowing down, so commodity prices are going down," said Kevin Gallagher, professor of international relations at Boston University with expertise in China's ties to Latin America. "Chinese trade and investment was Latin America's best friend for a decade, and now everybody is in a panic."
China remains the top trading partner for Latin America and the Caribbean, with $112 billion of the region's exports heading to China in 2013, according to Gallagher. Li's trip is expected to herald big investments in infrastructure projects, though analysts caution such announcements don't always result in action.
Still, the timing for any influx of Chinese cash could not be better for Brazilians, whose economy is expected to shrink by at least 1 percent this year.
Additionally, a sweeping kickback scandal at state-run oil company Petrobras has implicated Brazil's biggest construction and engineering firms, freezing them out of credit markets and severely hamstringing their ability to complete existing infrastructure works or start new ones that Brazil desperately needs to streamline its exports of soy, iron ore and other goods.
That makes many eager for word, expected to come during Li's stop in Brasilia, that the two countries are advancing on ambitious plans to build a $30 billion railway from Brazil's Atlantic coast in Rio state to a port in Peru that would pass through the Amazon jungle and over or under the Andes. It's expected that most of the labor would be carried out by Brazilian firms, though Chinese firms could bid on building some stretches.
Such a railway would drastically cut down the time and cost needed to move commodities to market — but experts also say given Brazil's infamous red tape on big infrastructure projects, it's likely many years away from being completed, if ever.
Plans for the railway, along with construction that's already begun on a China-backed waterway canal cutting across Nicaragua, are part of China's push to ease the delivery of the continent's commodities to its market.
In total, Li and Rousseff are expected to announce when they meet Tuesday some 30 projects worth over $50 billion, according to Brazilian officials.
Brazil normally prefers to fund its big projects itself, said Renato Baumann, an expert in international affairs at the Brazilian government's Institute for Applied Economic Research.
"However, the state these days is out of breath. It's fiscally imbalanced with a savings deficit in the government accounts," he said. "The state isn't able to make many important investments," making China's money all the more vital.
Among the other nations Li will visit, Gallagher said the stop in Colombia was "new and significant." It's only been recently that Colombia has been exporting big amounts of coal to China, and the Chinese are looking to invest in hydroelectric projects and the Colombian oil sector, "so of all the counties Li will visit, it's going to be the most interesting to watch," he added.
In Peru, where China has its longest-standing ties in Latin America, officials are expected to sign agreements on infrastructure, technology, communication and aerospace. In Chile, the first country in the region that signed a free-trade agreement with China, the two sides will address double-taxation issues, attempt to further streamline their bilateral trade and sign finance and technology deals.