Chinese military in S.China Sea 'threatens peace'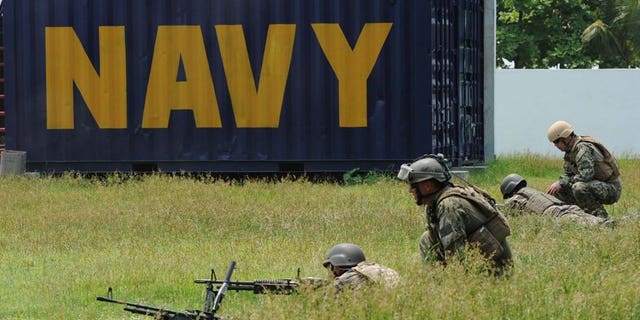 BANDAR SERI BEGAWAN, Brunei (AFP) – The Philippines said that an increasing Chinese military and paramilitary presence in the disputed South China Sea was a threat to regional peace.
Philippine Foreign Affairs Secretary Albert Del Rosario made the statement in a press release issued at a regional security forum attended by his counterparts from the 10-member Association of Southeast Asian Nations (ASEAN) and China.
"Del Rosario today expressed serious concern over the increasing militarisation of the South China Sea," the statement said.
He said there was a "massive presence of Chinese military and paramilitary ships" at two groups of islets within the Philippines' exclusive economic zone called Scarborough Shoal and Second Thomas Shoal.
Del Rosario described the Chinese military presence at these islets as "threats to efforts to maintain maritime peace and stability in the region".
Del Rosario said the Chinese actions violated a pact made in 2002 in which rival claimants to the sea pledged not to take any actions that may increase tensions.
The declaration on conduct signed by ASEAN nations and China also committed rival claimants to resolve their disputes "without resorting to the threat or use of force".
"We reiterate our continued advocacy for a peaceful and rules-based settlement of disputes in accordance with universally recognised principles of international law," Del Rosario said.
China claims nearly all of the strategically vital and potentially resource-rich South China Sea, even waters approaching the coasts of neighbouring countries.
ASEAN members the Philippines, Vietnam, Brunei and Malaysia, as well as Taiwan, also have competing claims to parts of the sea.
The rivalries have for decades been a source of regional tension, with China and Vietnam fighting deadly battles for control of some islands in the sea.
Tensions have built in recent years with the Philippines, Vietnam and some other countries expressing concern at increasingly assertive Chinese military and diplomatic tactics to assert control of the sea.
Manila says China has effectively occupied Scarborough Shoal, a rich fishing ground far closer to Philippine land than Chinese, for more than a year.
The Philippines says China has recently also deployed vessels to intimidate a tiny Philippine garrison on Second Thomas Shoal that has been stationed there since the mid 1990s.