Chinese man kills one-child policy officials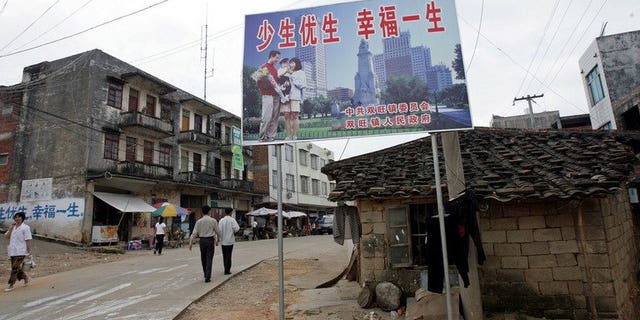 BEIJING (AFP) – A knife-wielding man stormed an office enforcing China's one-child policy on Tuesday, stabbing two officials to death and injuring four people after a row over his offspring, state media said.
Bureau staff had earlier refused to give the man, surnamed He, the papers he needed to obtain a residency permit for his fourth child, the official Xinhua news agency said, as he had not paid a "social compensation fee" for having it in violation of the family planning policy.
The villager was arrested soon after attacking the Dongxing city family planning office in the southern province of Guangxi, the People's Daily said.
Video posted by the web portal Sina showed a man fending off a group of police before being overpowered. The footage, apparently taken by a bystander, could not be independently verified.
China's policy of limiting most families to one child has sown deep resentment since it was imposed more than three decades ago.
Authorities say it has prevented overpopulation and boosted economic development.
But critics argue the policy has led to harsh enforcement methods that incite popular anger as well as creating major demographic problems.
Some users of the Chinese version of Twitter, Sina Weibo, expressed sympathy for Tuesday's attacker.
"As long as family planning serves as a means to persecute the people, the people must resist," wrote one. "How many more people will turn to crime because of this terrible law?"
Outrage spread online last year after a woman who had been forced to undergo an abortion seven months into her pregnancy was pictured alongside the bloody foetus.
The one-child policy allows exceptions for some families, including many ethnic minorities, couples who are both only children and rural families whose first child is a girl.
Nonetheless the limit -- coupled with a traditional preference for boys -- has led to an imbalance of about six males born for every five females.
The country's labour pool shrank last year for the first time since 1963, according to official figures, while a growing elderly population and their need for care has put pressure on only children and the state.