Chinese land bomber in South China Sea, potentially escalating tensions over disputed zone
NEWYou can now listen to Fox News articles!
Chinese state media released a video showing a long-range nuclear-capable bomber landing on an island in the South China Sea for the first time, a move the Pentagon said raises tensions in the region years after China's president pledged not to militarize the disputed area.
A Washington think tank, CSIS, says the bomber landed on Woody Island in the Paracel Islands, claimed by Taiwan and Vietnam in addition to China. It is not one of the man-made islands China has constructed atop former reefs in recent years in the Spratly chain further south.
The Chinese bomber flight took place Thursday on the same day the U.S. Navy installed a new commander for its Pacific Fleet, Adm. John Aquilino.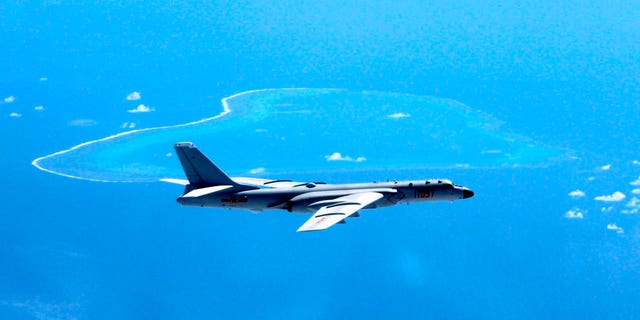 "The United States remains committed to a free and open Indo-Pacific. We have seen these same reports and China's continued militarization of disputed features in the South China Sea only serves to raise tensions and destabilize the region," said Marine Lt. Col. Christopher Logan, a Pentagon spokesman.
Chinese state media said the bomber was a H-6K long-range bomber which entered service in 2009, and capable of carrying nuclear weapons. The original H-6 bomber dates back to the late 1950s. It has a range of over 3,000 miles.
In 2016, Fox News reported that China had sent surface-to-air missiles to Woody Island.