Chinese city bans Christmas decorations, sales for 'clean environment'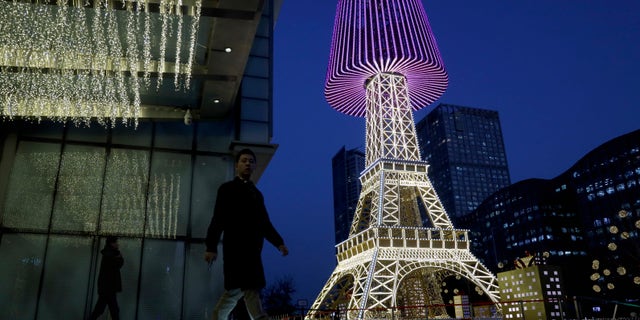 It won't be looking a lot like Christmas in one city in northern China after local officials issued a ban Sunday on all decorations and holiday sales.
The ban in Langfang threatens to punish anyone selling Christmas trees, wreaths, stockings or even Santa Claus figures.
"Shops are strictly prohibited from holding Christmas performances or promotional sales," city officials said in a statement obtained by the South China Morning Post.
Stores are also not allowed to put up posters or banners advertising sales, and outdoor performances to celebrate the holiday are also prohibited.
Officials are also appealing for the public to report anyone "spreading religion" in parks or squares, the news outlet reported. It did not say if authorities were targeting the Christian faith specifically or all religions..
The city's urban management bureau claims the ban is in place to help maintain a clean city environment for an upcoming awards competition.
An employee at the bureau, who refused to be identified, told the Communist Party-run paper The Global Times the crackdown was being made in order to maintain a "clean environment" to be able to pass the annual rating of "National Civilized Cities" that's presented every three years.
MYSTERIOUS TWITTER BUG LINKED TO 'UNUSUAL ACTIVITY' FROM CHINA AND SAUDI ARABIA
The honorary title is supposed to recognize a city's "overall strength and comprehensive competitiveness," and reflect a region's social and economic development.
"Managing roadside stalls and migrant vendors is our routine work. Christmas is a time when such illegal activities are prevalent," the employee told the paper, adding that retailers usually take advantage of Christmas to sell goods, sometimes in unlawful ways.
The Christmas ban in Langfang comes amid a crackdown nationwide of on independent church groups this year as part of an assault on all religions.
Earlier this month, at least 100 churchgoers and seminary students from the Early Rain Covenant Church were taken away during a raid in the southwestern city of Chengdu, according to Human Rights Watch. Those detained include the church's pastor, Wang Yi, and his wife, Jiang Rong.
"The shutdown of a Protestant church in Chengdu epitomizes the Xi Jinping government's relentless assault on religious freedom in China," said Yaqiu Wang, a China researcher for the group. "It makes a mockery of the government's claim that it respects religious beliefs."
US SPORTSWEAR TRACED TO FACTORY IN CHINA'S INTERNMENT CAMPS
The government requires that Protestants worship only in churches recognized and regulated by the Three-Self Patriotic Movement. Even within that framework, the officially atheist ruling Communist Party has been seeking to rein in religious expression, including removing crosses from official and unofficial churches.
Tens of millions of Chinese identify as Christians, the bulk of them Protestants. Their ranks have been increasing rapidly despite the Communist Party's efforts to limit them. Their numbers rival the membership of the ruling party, which stands at around 90 million.
The Associated Press contributed to this report.