China's December export growth slows, imports accelerate; 2013 trade surplus widens to $260B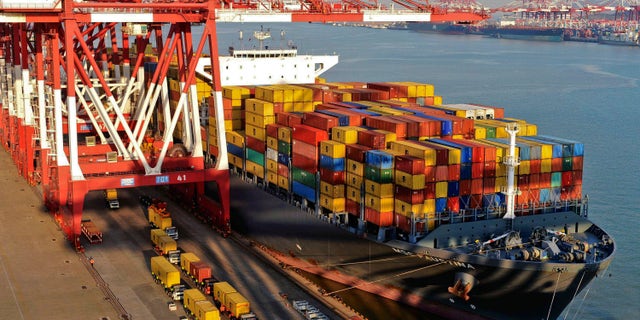 NEWYou can now listen to Fox News articles!
BEIJING – China's export growth slowed in December while imports accelerated, possibly helping to temper fears of a slowdown in the world's second-largest economy.
Exports rose 4.3 percent to $207.7 billion, slowing from November's 12.7 percent expansion, trade data showed Friday. Imports rose 8.3 percent to $182.1 billion, up from the previous month's 7.6 percent.
Stronger exports might be a sign China's domestic demand is relatively strong despite concerns a modest economic recovery is weakening.
China's economic growth tumbled to a two-decade low of 7.5 percent in the second quarter. It rebounded to 7.8 percent the following quarter but private sector analysts say that recovery is likely to fade. The Cabinet in late December said it expected 2013's full-year growth to be 7.6 percent.
"Our country's economic development was stable overall," said a government spokesman, Zheng Yuesheng, at a news conference. However, he added, "China's foreign trade enterprises face a complex and fickle domestic and international environment."
For the full year, China's total exports were $2.2 trillion while imports were $1.9 trillion. Its global trade surplus widened by 12.6 percent to $260.2 billion.
Zheng said it was the first time China's total annual trade topped $4 trillion.
China has long been the world's factory, with a voracious appetite for oil, iron ore and other raw materials that propelled economic booms in Brazil, Australia and other commodities exporters. More recently, it is emerging as a major market, helping to drive demand for food, mobile phones, autos and other consumer goods.
Communist leaders are trying to reduce reliance on trade and investment by promoting domestic consumption but household spending is rising more slowly than they want. That forced Beijing to backtrack temporarily last year and launch a mini-stimulus to shore up growth with higher spending on building railways and other public works.
Export-driven manufacturing still employs millions of workers and any weakness raises the risk of job losses and unrest. Surveys earlier showed manufacturing activity weakened in December.
In a reflection of China's stronger growth and demand for imports, its politically sensitive trade surpluses with the United States and the European Union narrowed for both December and the full year of 2013, though the gaps still were large.
The surplus with the United States in December narrowed by 4.8 percent to $17.8 billion and for the full year by 1.3 percent to $215.9 billion. That with the 27-nation EU narrowed by 1.5 percent in December to $12.9 billion and for 2013 by 2.5 percent to $118.9 billion.
Zheng, the government spokesman, expressed confidence that 2014 would be a "period of steady growth" for China's trade, though he gave no details.
___
National Bureau of Statistics (in Chinese): www.stats.gov.cn