China's city code enforcers accused of violence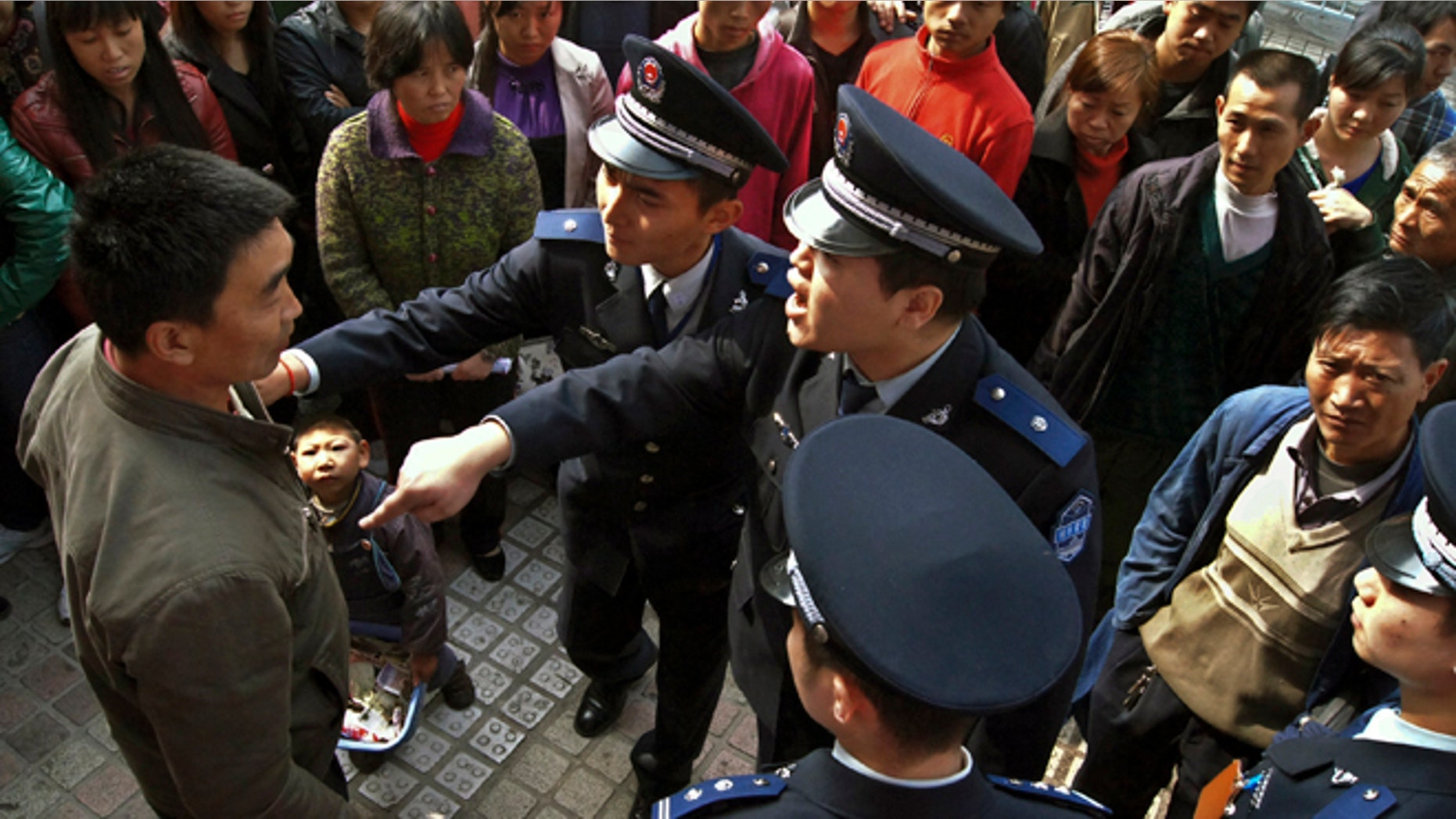 BEIJING – A branch of Chinese city governments set up to monitor everything from unlicensed street vendors to unauthorized construction is rife with abuse of power, stoking already high social tensions, a rights group said Wednesday.
The report by New York-based Human Rights Watch catalogs alleged abuses by officers with the urban management bureaus including beatings, forceful seizing of property and illegal detentions. The group interviewed 25 people who said they were "slapped, shoved, pushed to the ground, forcibly held down to the ground, dragged, punched, kicked, and thrown from their vehicle to the street."
One person, Wang Weiwei, set up an unlicensed vegetable stall along a road in Beijing in 2010. Instead of issuing her a citation, urban code enforcers thrashed her, the group said.
"They hit me in the head and face and my nose was bleeding. They punched me in the face until my face was swollen," it quoted Wang as saying.
Violence by officers of the urban management bureaus — known as chengguan in Chinese — has caused resentment, triggered riots and, if unaddressed, could further aggravate public discontent against the government, the rights group said.
"The chengguan's abusive conduct turns the idea of rule of law on its head," said Sophie Richardson, China director at Human Rights Watch. "Instead of carrying out clearly defined and limited activities to enforce the law, some chengguan are abusing their authority."
Richardson said the group wants Chinese leaders to rein in the chengguan, but so far "there is an unwillingness to tackle the problem." She said the group received no replies to letters it sent last month to Public Security Minister Meng Jianzhu and his boss, Politburo member Zhou Yongkang.
Requests by The Associated Press for comment from the Public Security Ministry, Beijing's urban management bureau and an association of urban management bureaus across China were either denied or unanswered.
The chengguan have been a source of public resentment for years. Set up in 1997, the bureaus were tasked with enforcing non-criminal city codes covering issues such as street vending, noise control, sanitation and parking. They have no legal authority to use force.
Their reputation for highhandedness, unfairness and violence is such that many Chinese use the term "chengguan" as shorthand for brute force as a cure-all for any thorny problem.
Teng Biao, a Beijing rights lawyer who has worked with chengguan accusers, said the abuses of power are symptomatic of the authoritarian government's lack of checks and balances.
"When you have administrative powers highly concentrated without government democracy, judicial independence and free press, problems are inevitable," Teng said.
The Human Rights Watch report titled "Beat him, Take Everything Away" lists 162 reported abuses by chengguan officials from July 1, 2010, to March 17, 2012.
Among incidents described in the report:
— Journalist Zhang Wei told the rights group that he was hit with plastic batons and kicked by chengguan members after he attempted to interview a crying girl during tussles between street vendors and chengguan in the southern city of Kunming.
— Lin Ping, a 32-year-old from the eastern Anhui province, said her grandmother was hit and verbally abused during a forced eviction by chengguan.