China welcomes UN Syria chemical arms resolution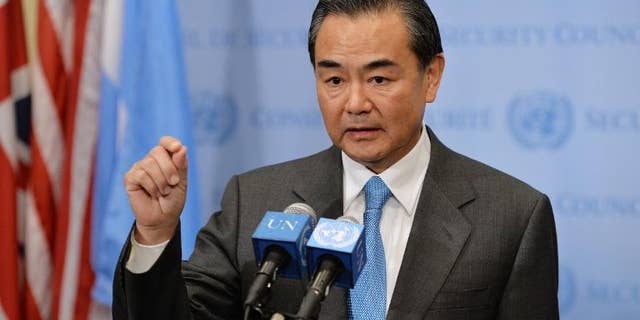 NEWYou can now listen to Fox News articles!
Beijing (AFP) – China welcomed a United Nations resolution aimed at destroying Syria's chemical arms, and urged the major powers to ensure their decisions "can stand the test of history", state media reported Saturday.
Beijing was "heartened" to see the landmark UN Security Council resolution on Friday which ordered the destruction of Syria's chemical weapons and condemned a murderous poison gas attack in Damascus, Foreign Minister Wang Yi said, according to state-run news agency Xinhua.
"In dealing with the Syrian issue, the Security Council must bear in mind the purposes and principles of the UN Charter, act with a sense of responsibility to the Syrian people, the world and history, and ensure that any decision it takes can stand the test of history," he told the council after the vote, Xinhua reported.
"We hope that the relevant parties will stay in close cooperation, fulfil their respective responsibilities... (to) achieve a proper settlement of the issue of chemical weapons in Syria," Wang added.
The UN Security Council -- of which China is a member -- overcame a prolonged deadlock to approve the first council resolution on the conflict, which is now 30 months old with more than 100,000 dead.
Resolution 2118, the result of bruising negotiations between the United States and Russia, gives international binding force to a plan drawn up by the two to eliminate President Bashar al-Assad's chemical arms.
China routinely voices opposition to interference in other countries' domestic affairs and strongly opposes military action over Syria.
A statement was released on the foreign ministry's website Saturday, welcoming the resolution and offering to "send experts to participate in the work and to provide funds".